Olidesmart SW120 Automatic Swing Door Opener with PIR Sensor
Olidesmart Automatic Swing Door Opener with PIR Sensor Video
The olide-120bs is a kit with an automatic door opener for both inswinging and outswinging doors and  two stainless handicap push to exit buttons for automatic doors. 
This system is designed to secure your door and have the capabilities of automatically and manually opening and closing it as well. A simple yet secure system for areas such as offices, hospitals, elderly homes, banks, commercial locations, and much more.
Olidesmart Automatic Swing Door Opener Complete Kit with PIR Sensor
One set electric door opener includes: Opener,  2 arms, 2 remotes,1 hand programmer, 2 push buttons,2 body sensors
Push arm and pull arm both available, can be mounted on the hinge side and opposite hinge side.
Motion Sensor Automatic Swing Door Opener Applications and Advantages
Commercial: Shop mall, Hospital,ect.
Residential: bathroom room, bedroom, patio,etc.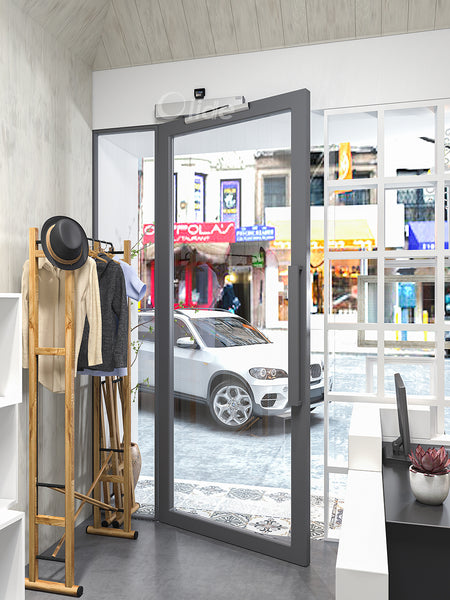 Hands free motion sensor activate the swing door, widely in both residential swing door and commercial swing door.
Motion Sensor Features
It can be used as supporting motion sensors for various autodoors, particularly suitable for auto rotation doors and are doors as well as sliding autodoors, both concealed mounting and surface mounting are acceptable.
A whole set of passive detector made in Germany is used and the shape, structure is reasonable and convenient, with strong auti-interference ability, high sensitivity, unique zoom design and light control device.
The focusing angle is adjustable, so that the sensor detects the designated focus area.
Special signal contact  output is adjustable between normally open and closed, so that anode detection can transmit in case of power failure or power cable disconnection.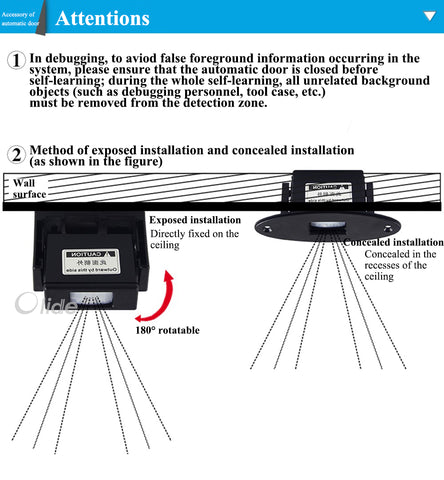 More detail about motion sensor

Olide120bs Automatic Swing Door Opener Characters:
Reinforced high strength aluminum alloy and imported original parts used.Imported motor from Germany with fast speed and service life of more than 1 million times,it can work stable and with smooth operation. 
Microcomputer controller, more intelligent -- several sets of transistors are added inside the controller, and a set of protection switches can stabilize the voltage.
Universal voltage can widely used --It have made the transformer function directly in the controller, so you can connect AC110V/ AC220V directly to machine.
Multi-function interface- It can be connected with the electronic lock, the access control system and etc., and can be connected directly with sensor.
The Remote control distance can be more than 10 meters, and flexible adjustment of automatic door (lock, normally open, reset,

automatic

).
The swing door opener model olide120bs can bear withstand the door weight of 120kgs(264.55lbs).
Motion Sensor Automatic Swing Door Opener Control Panel Detail

Parameters easily adjustable by hand programmer:
①Opening or closing speeds
​②Manually open force (Push go function)
③Opening direction
④Hold-open time
Wiring Diagram
Motion Sensor Automatic Swing Door Opener Technical Specifications
Model Number: olide-120bs

Brand Name: olide

Rated power: 50W

Power input: 220V/AC 110V/AC 50/60Hz

Door width: 1200mm

Door weight: 120kgs

Material: Aluminum alloy

Feature: Smooth, quiet operation

Motor: DC 24V brushless motor
DSW120 Swing Door Opener Manual
---
We Also Recommend
---
Do the body sensors serve as a trigger to open the door or do they serve to detect non-presence for closure?

Hi, it is triggered to open the door, it will automatically open the door when it detects the human body

Can it be used outside?

Yes,it can be

Does it work with power supply AC110V?

Yes,the input power supply can be AC100V-AC240V