Olide DSW120 Push Button Automatic Swing Door Opener With Hand Programmer
DSW120 Automatic Swing Door Opener Installation Video
This system is designed to secure your door and have the capabilities of automatically and manually opening  and closing  it as well. A simple yet secure system for areas such as offices,  hospitals,elderly homes, banks, commercial locations, and much more.
Electric Handicap Door Opener With Hand Programmer

One set electric door opener includes: Opener,  2 arms, 2 remotes, 2 push buttons,1 hand  programmer.
Automatic Swing Door with Passive Infrared Sensor Package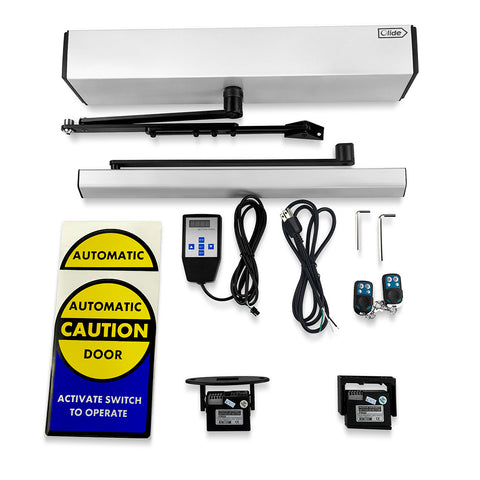 Package includes: Opener,  2 arms, 2 remotes, 2 push buttons, 2 passive infrared sensor, 1 hand  programmer.
DSW120 Electric Swing Door Closer with No Touch Hand Sensor Switch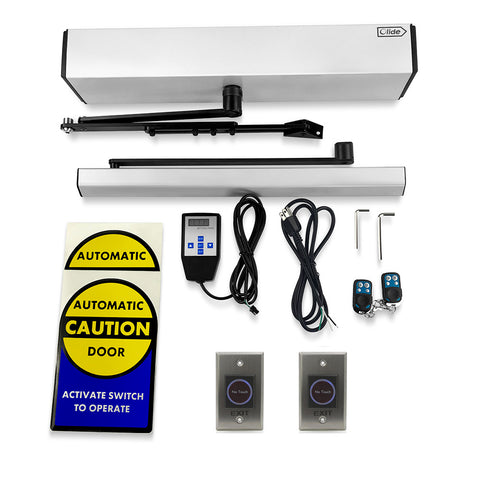 Package includes: Opener,  2 arms, 2 remotes, 2 push buttons, 2 no touch hand switches, 1 hand  programmer.
Passive Infrared Sensor Automatic Handicap Door Operator Features
Reinforced high strength aluminum alloy and imported original parts used.
Imported motor from Germany with fast speed and service life of more than 1 million times,it can work stable and with smooth operation.
Microcomputer controller, more intelligent -- several sets of transistors are added inside the controller, and a set of protection switches can stabilize the voltage.
Universal voltage can widely used --It have made the transformer function directly in the controller, so you can connect AC110V/ AC220V directly to machine.
Multi-function interface- It can be connected with the electronic lock, the access control system and etc., and can be connected directly with sensor.
The Remote control distance can be more than 10 meters, and flexible adjustment of automatic door (lock, normally open, reset, automatic).
The swing door opener model SW120 can bear withstand the door weight of 120kgs(264.55lbs).
DSW120 Control Panel Display
Parameters easily adjustable by hand programmer:
①Opening or closing speeds
​②Manually open force (Push go function)
③Opening direction
④Hold-open time
Wiring  Details  with  Accessories
DSW120 Technical Specifications And Installation Note
Open way:
single open or double open
Max door weight:
120kg
Max door width:
1200mm
Power input:
AC 110V/AC220V, 50~60Hz
Power consumption:
50W
Open speed:

250-450mm/s

(adjustable)

Close speed:

250-450mm/s

(adjustable)

Open time: 
3-7s(adjustable)
Hold-open time:
1-30s(adjustable)
Manually open force:
<30N
Running noise:
<=55Db
Environment temperature:
-20°C ~ +50°C
Note:Articulated arm and sliding arm both available, can be mounted on the hinge side and opposite hinge side.
DSW120 Swing Door Opener Manual 
---
We Also Recommend
---
Can the push buttons be used to close the door after walking through, or do the push buttons only "open" the door

Hi Rick,

Yes, the button can both push to open and close the door. 
You can adjust the door open holding time to "--" on the controller, which means the door open holding time is infinite. And then press the button to open,  the door will keep normally open, and press button to close.

Can this system interact with current keypad access control

Hi Matt,

What kind of keypad is yours? This opener can be used with kinds of access control device, usually through wiring to make them work together

Hola. Come. Conectar el Seguro de Puerta electrico

Hi Denis, Do you mean how to connect with electric door lock? Please let me know which door lock you want to connect, so that I can give you correct wiring diagram, you can send to our email address, can not upload image here. Best Regards, Olidesmart

Does the unit come with electric strike?

No,it does not, you can purchase the optional electric strike on following page:https://www.olidesmart.com/collections/door-lock/products/olide-electric-strike-for-automatic-swing-door

Hi, how long it takes to my place in US?

Thanks for your message, we have warehouse in WI, it takes about 3-6 days to your door.

Does this system still allow the door to be opened and closed manually?

The manual open function can be turned on or off; If you open the door manual, it will close automatically.

I have a Unifi Access controller. It is currently wired to a door access key pad via an ethernet cable. The electric strike plate is powered by the Unifi Access Controller (with 18 gauge wire I believe). How would I connect this automatic door opener so that it unlocks and opens simultaneously?

Hi, if it's not our electric strike or access controller, please show us your terminals of the device, so we can check for you.