Olidesmart Automatic Swing Door Operator with Slim Wireless/Wired Handicap Push Button
Installation Video
Olidesmart Automatic Swing Door Operator with Slim Wireless/Wired Handicap Push Button
Olide-120B Automatic Swing Door Opener Manual
Features for Slim Wireless Handicap Push Button
Narrow and long panel design, the whole panel is effective when pressed;
Adopts 2.4G wireless communication technology with high wireless transceiver stability;
Low power design, long battery life;
The receiver adopt relay signal output and can be used with automatic door and access control controller;
After receiving the signal, it outputs the door opening signal for 1.5 seconds and is equipped with an LED indicator;
Receiver wide voltage input design, 12-30V power onput.
1. Press panel
2. Fixed screw holes
3. Hidden holes for fixing screws on the panel, through which a hexagon socket screwdriver can be inserted into the screw
4. Base connection socket
5. Panel mounting screw holes
6. Battery box
7. Face plate connection socket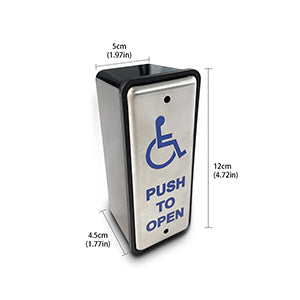 Olide-511 Slim Wireless Handicap Switch Manual
Olide-515 Slim Wired Handicap Switch Manual
Advantages of Olide-120B Automatic Swing Door Operator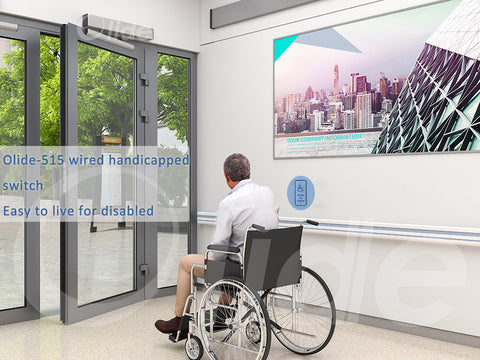 1. Olide-120B automatic swing door operator with 100-240v wide voltage design;
2. Equipped with push and pull arms, both can be installed outswing open and inswing open;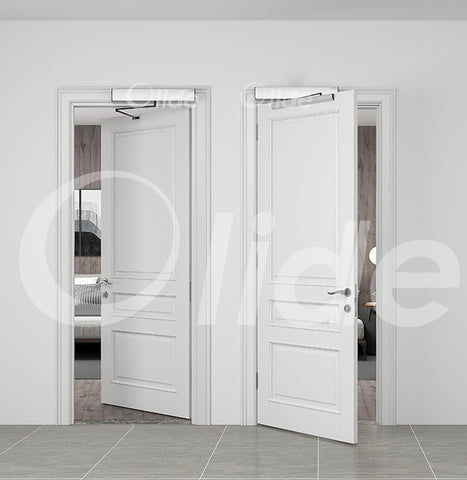 3. Touchless open and close with remote control, control distance available within 10meters;
4. Various door opening methods are available, such as sensor, access keypad, face recognition, fingerprint, remote control, switch, mobile phone, audio, etc.
5. Max. door bearing weight is 120kg, closing and opening speed, force and open direction are adjustable;
Olide-120B Technical Specifications
Voltage: 110-220V AC+/-10%
Power Consumption: 50W
Opening Time: 3-7 sec.@90 degrees
Hold Open Time: 1-30 sec.Adjustable
Max. Door Frame Depth: 450mm/17.7"
Door Width: Min. 660mm/ 26"   Max.1200mm/ 47.2"
Max. Opening Angle: 120 degrees
Environment Temperature: -20C° to 50C°     -4F to 122F
Protection Class: IP12D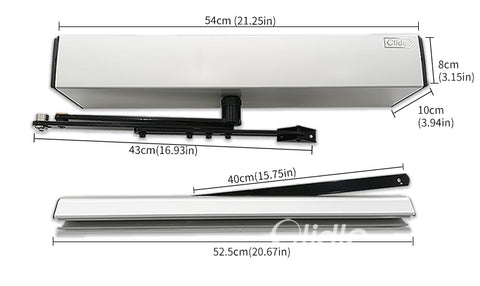 Wiring Diagram with Olide-511 Wireless Push Button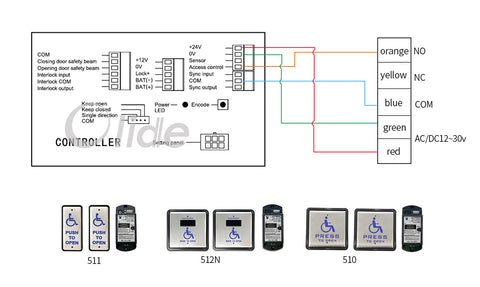 Wiring Diagram with Olide-515 Wired Push Button
---
We Also Recommend
---
Can two doors open in the same time?

Hi Bob,

Yes, they can be opened at the same time. We have sync wires, or you can connect two door openers to one switch.