Olide-120B Double Automatic Swing Door Opener Residential/Commercial Use
Olide-120B Double Automatic Swing Door Opener Residential/Commercial Use
Olide-120b double automatic swing door opener suitable for double door system, which can be opened and closed at the same time. The aluminum alloy cover of the door opener is customized according to the door width, which is generous and beautiful. 
The max. door weight of double automatic swing door opener can be 240kg, can be widely use in commercial and residential applications.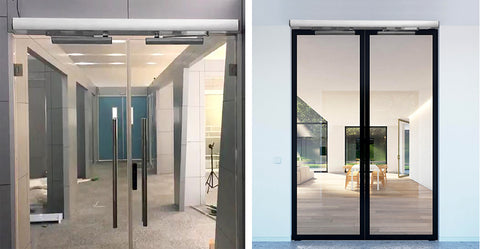 Olide-120B Automatic Swing Door Opener Features
Reinforced high strength aluminum alloy and imported original parts used;

Auto-reverse function;
Accelerate evenly when opening the door and decelerate evenly when closing the door. Buffer function makes the door run fast and steady;

Universal voltage can widely used --It have made the transformer function directly in the controller, so you can connect AC110V/ AC220V directly to machine;

Microcomputer controller, more intelligent -- several sets of transistors are added inside the controller, and a set of protection switches can stabilize the voltage;

Can be remotely control, control distance is within 10m.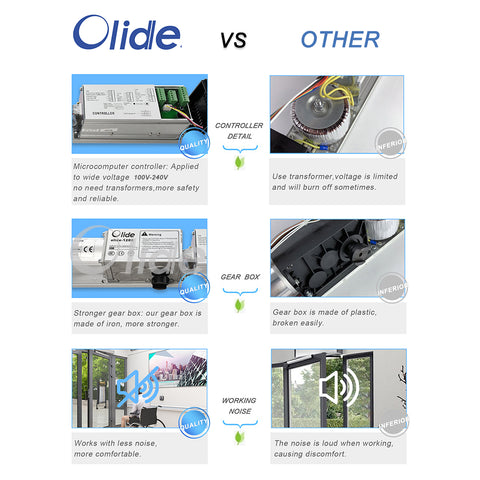 Wiring Diagram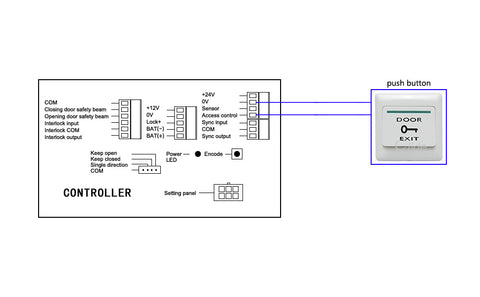 ---
We Also Recommend
---
OLIDE-120B DOUBLE AUTOMATIC SWING DOOR OPENER What are the dimensions of the motor unit?

Hi,
You can see the size in the picture here: https://cdn.shopify.com/s/files/1/0018/5119/5427/files/olide-120B_handicap_door_opener_size.jpg

The cover is customized according to your door width.

how does this attach to the frameless glass door?

Hi,

There is glass clamp equipped for frameless glass door.