Non-touch Commercial Automatic Swing Door Opener with RFID Card Reader PIR Sensor and 880lbs Electric Lock
Commercial Automatic Swing Door Opener with RFID Card Reader
Olide-120B automatic swing door opener is a kit that can not only open automatically, but also open manually. When there is a power failure or an emergency, you can open the door by hand, which is safer than a fully automatic door opener.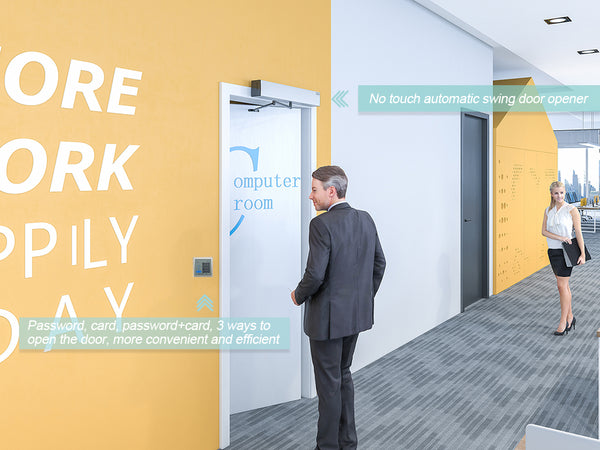 With RFID card reader and passive infrared sensor, it will be more suitable for use in some commercial and office places. The card reader can restrict the entry and exit of irrelevant personnel, and it is more convenient to exit the door by sensor. Offices, hospitals, and banks are all suitable.
Commercial Automatic Swing Door Opener Features
Password, card and password+card 3 ways can open the door, up to 1000 cards can be input;
Non-touch opening door with PIR sensor and card reader, convenient and efficient;
Wide voltage design, no need transformer, voltage 100-240V universal;
Imported motor, built-in intelligent chip controller, the door opener is smarter, safe and durable;
Both inswing and outswing door are available;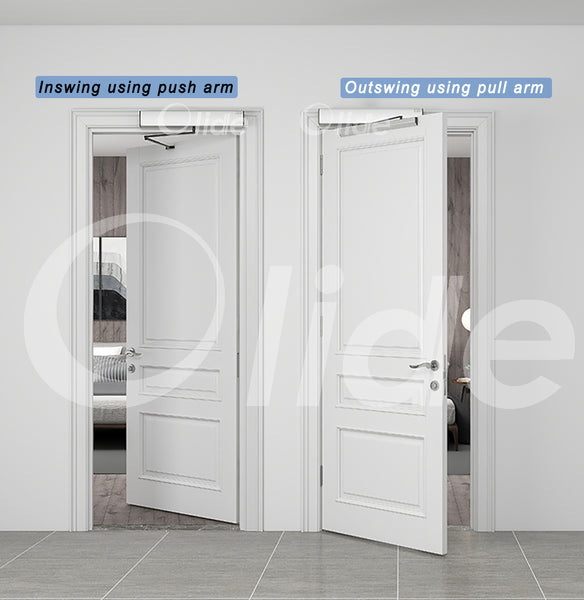 Easily program parameters with debugging handle, such as opening direction, closing speed, closing force, etc...;
880lbs electric lock, can be used in power-off or power-on state;
Wireless 433.92MHz remote control, multiple units can be coding with 1 remote control, can be opened and closed at the same time;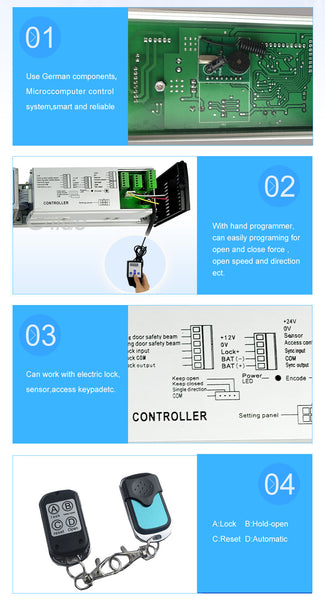 Technical Parameters
Olide-120B automatic swing door opener
 Voltage:
 110-220 VAC +/-10%
 Power Consumption:
 50W
 Opening Time:
 3-7 sec. @ 90 degrees
 Hold Open Time:
 1-30 sec. Adjustable
 Max. Door Frame Depth:
 450mm / 17.7"
 Door Width:

Min. 660mm / 26"

Max. 1200mm / 47.2"

 Max. Opening Angle:
 120 degrees
 Environment Temperature:

-20C to 50C

-4F to 122F

 Protection Class:
 IP12D

RFID Card Reader
 Model:
AD-2000M
 Color:
Grey
 Working Voltage:
 DC 12V-+10%
 Starage Capacity: 
 1000cards, 1password
 Quiescent Current:
<=60mA
 Card Type:
 EM(ID) card or EM Compatible card
 Unlocking Current:
 <=1000mA
 Reading Distance:
 5-15cm

 Ambient

Temperature:

-10°C - 55°C
 Size:

 4.6*4.6*0.8inch

(117*117*21mm)

Environment

Humidity:

 20% - 90%
 
---
We Also Recommend
---
Can you add your own custom RFID cards to this system?

Hi, do you mean your own custom RFID card? If you already have a separate access controller for the RFID system, as long as the controller can be connected with our automatic door, the RFID can be work together. 
But if the RFID is connected to automatic door directly, it can not work.