Non-contact Handicapped Automatic Door Operator For Special Room/Washroom
Non-contact Handicapped Automatic Door Operator For Special Room/Washroom
The special automatic door for the disabled toilet is an automatic door system specially designed for people who are unwell to enter and exit the toilet. Compared with ordinary automatic doors, the difference lies in its humanized design, which fully considers the ease of operation and safety for the disabled. , Canceled the internal and external sensors, added access switches and lock switches, etc.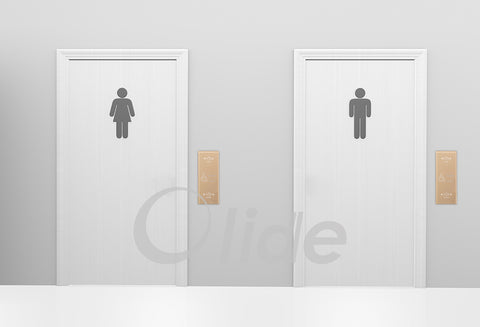 Olide-120B automatic swing door manual
The non-contact handicapped automatic door operator supports single and double doors, suitable for indoor doors and outdoors, glass doors and wooden doors, both inswing doors and outswing doors can be applied; and can be connected to infrared sensors. Multiple door opening methods available, sensor door opening, remote door opening, card reader opening door, fingerprint machine fingerprint door opening, face recognition opening door, wireless switch opening door, etc. ;
Intelligent system automation door operator with microcomputer automatic controller, with superior performance and powerful functions. Advanced brushless motor, high efficiency, large torque, maintenance-free, long life, low noise power unit. 
In additional to the integrated synthesis of brushless motor reducer, double-door interlock function and other using parameters can be adjusted, there is also a full-featured remote control interface, which directly controls electric locks, push and open functions, and a unique hand programmer. No need to use ladder, you can set the action with only the operation at hand, and test the opening, closing, speed, direction of the door, etc., and the operation is convenient.

Non-contact handicapped automatic door operator suitable for main exits such as hospitals, office buildings, offices, clean places, smart communities, scenic spots, park, banks, business places (restaurants, shopping malls, hotels), homes, fire exits, corridors, etc.
Touchless Handicap Switch for Special Washroom Features
Special room touchless handicap switch is mainly used for limited personnelo occasion;
This special room switch use large panel setting, laser carving technology, exquisite and high-grade;
Equipped with HD voice system (Chinese, English, Cantonese optional and customized voice;
Both the inner and outer panels have text light instructions, and the panels clearly identify the use steps for easy operation;
This product is equipped with service time remind function. 
---
We Also Recommend
---
do you have a dealer in the Columbus, Ohio area who could install an opener in my home?

Sorry, we don't have dealer in the Columbus, Ohio, can we don't have installation service; But we have installtion video and tech support. 
Here is the video you can refer to:
https://www.youtube.com/watch?v=lClhiUvyGnM&t=349s