Low Energy ADA Handicap Door Opener, Pair with 2pcs Wireless/Wired Touchless Activation Swtiches
Olide-120B Installation Video
Touchless Handicap Door Opener Working Video
Low Energy ADA Handicap Door Opener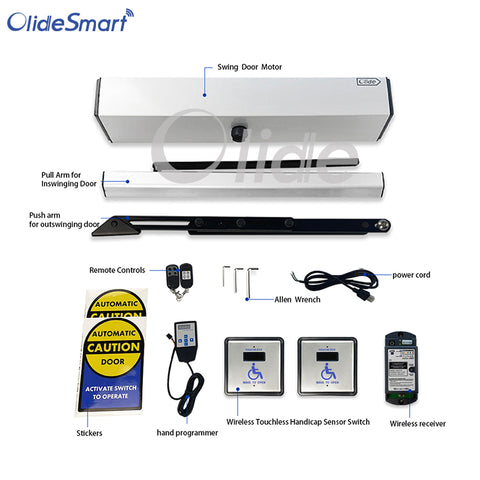 Package including: swing door motor, push and pull arms, remote control, stickers, hand programmer, allen wrench, power cord, wireless touchless handicap sensor switch, wireless receiver.
Olidesmart low energy ADA handicap door opener can be used in various public places and household places, such as stores, shopping malls, restaurants, front doors, bedrooms, etc. It is in line with the American ADA standard. The minimum door width of the Olide low energy ada handicap door opener is 660mm/26'', the longest is 1200mm/47.2'', and the maximum door weight can reach 120kg, which is suitable for most doors.
Low Energy ADA Handicap Door Opener Manual
Low Energy ADA Handicap Door Opener Features
Olidesmart low energy ada handicap door opener which is working with wireless touchless activation sensor swtich, open the door without contact, it's more safety.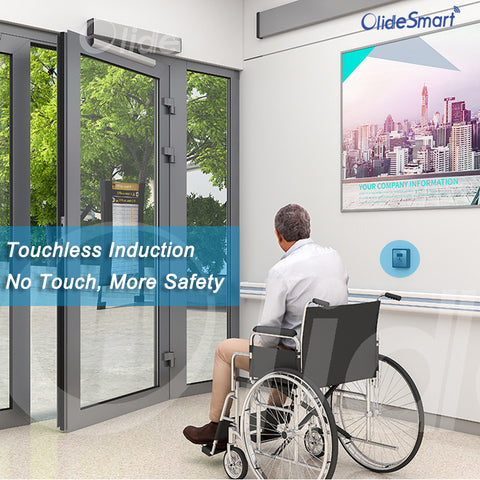 Universal voltage can widely used --It have made the transformer function directly in the controller, so you can connect AC110V/ AC220V directly to machine.
It can be connected with the electronic lock, the access control system and etc., and can be connected directly with sensor.

Easily adjust parameters with hand programmer, opening/closing speeds, force, direction, etc. can be adjusted.

The remote control distance can be more than 10 meters, and flexible adjustment of automatic door (automatic, normally open, normally closed, semi-open).  

Hold the "encode" button on the machine, and then press any button on the remote control, you can easily code with the machine.
Olidesmart Automatic Swing Door Advantages
Both inswing and outswing doors are available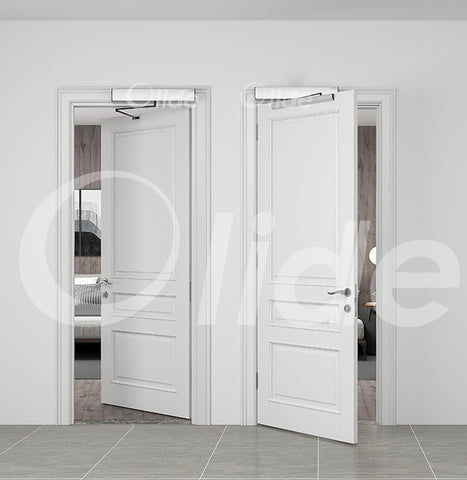 M-512N Wireless Touchless Activation Sensor Switch 
Features
4.5" stainless steel panel
Water proof IP65
Sensing distance 3cm-30cm
Wireless Receiver Feature
2.4GHz radio frequency, high sensitivity and stability;
Max wireless receiver distance: 10mters
Wiring Diagram
Olide-120B Handicap Door Opener Technical Specifications and Size
Voltage: 110-220V AC +/-10%
Power Consumption: 50W
Opening Time: 3-7 sec. @90 degrees
Hold Open Time: 1-30 sec. Adjustable
Max. Door Frame Depth: 450mm/17.7"
Door Width: Min.660mm/26"    Max. 1200mm/47.2"
Max. Opening Angle: 120 degrees
Environment Temperature: -20C°- +50C°
Protection Class: IP12D
---
We Also Recommend
---
With the 512N wireless system, what provides power to the push buttons and the actual actuator?

Hi,

The wireless button 512N is inside battery, and the door opener is powered by the power source, it has a plug.


Can the door be opened manually without disarming the opener? In other words, can people use the door manually, and then handicapped people use as needed?

Hi, model olide-120b can be manually opened, you can adjust the hold closing force to a lower value, you can open doors by hand.

what is the opening force when power is on and off

Hi, there is no opening force, only closing force, it can be adjusted. And power consumption is 50W.