Residential Automatic Handicap Door Opener, Commercial Electric Swing Door Operator with M515 Wired Slim Handicap Push Switch
Installation Video
Running Video
DSW120 Swing Door Opener Manual 
Residential Automatic Handicap Door Opener with Wired Slim Handicap Push Button
The DSW120 operator can be used as a door closer, break through and expand the range of use of the automatic swing door operator. Under normal operating conditions, the noise generated by the operation of the DSW120 operator is very low, no more than 55 db, and it has more reliable economic performance and energy saving advantages compared with similar products.
Disabled Electric Door Opener Features
The disabled switch is specially set up in the conspicuous position of the door to provide the maximum safety and convenience for the disabled to enter the door.
The DSW120 operator can work with a variety of olide automatic door sensors, and the detection range will be expanded to ensure the safety of the person passing enter the door.
When the door is about to reach full open, the operator will automatically slow down the door opening speed until the door opens to the maximum width and the door will stop. When the door is closed, the operator will make the door to the fully closed state at low speed under the action of the motor and spring force, ensuring the safety of the door when it is running.
Select push arm or pull arm as needed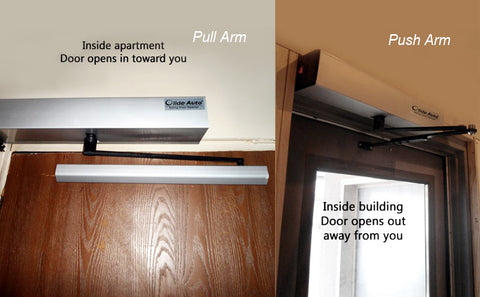 Features of Olide-515 Slim Wired Handicapped Push Button
Narrow and long panel design, the whole panel is effective when pressed;
Button contact output, can be used in conjunction with automatic doors and access controllers;
The stainless steel stamping panel is strong and durable;
Hidden panel fixing screw setting, the panel surface is neat and beautiful.
Olide-515 Slim Wired Handicapped Push Button Manual
Automatic Handicap Door Closer Technical Specifications
Swing 

Application:

one-way inswing or outswing open; single leaf and double leaves 

standard doors

Voltage:
110-220V AC+/- 10%
Motor:
DC 24V brushless motor
Power Consumption:
50W
Opening Time:
3-7sec. @ 90 degrees
Hold Open Time:
1-30sec.Adjustable
Max. Door Frame Depth:
200mm/7.87"(with push arm)
Door Width:

Max.1200mm/47"

Min.660mm/26"

Max. Opening Angle:
120 degrees
Environment Temperature:
-20C to 50C -4F to 122F
Operation Noise:
less than 55db
 Wiring Diagram
---
We Also Recommend
---
If l order a opener how soon will i have it

May I know which country are you in? As usual, it takes about 5-11days to arrive

Does it work perfectly for the disabled?

Of Course