Olidesmart Wifi Switch Automatic Sliding Door Opener Alexa Voice Control
Olidesmart Wifi Switch Automatic Sliding Door Opener
One complete set include items on above picture,there are 1pc slider, 1pc Wifi access switch, 1set wireless push switch,motor,remote control,0.5mx2pcs rack,mounting accessories.
Residential Sliding Door Opener Manual
Smart Phone Control Door Opener Advantages
Through the network, you will be able to control the opening and closing of the door by Alexa, google Echo voice controller and mobile phone. (

Imagine

, if you are cooking or reading in the room, or sleeping late, and then you heard a knock on the door, no time or don't want to get up? No problem, just turn on the phone and open the door with one click.)

Good option for elder/disabled.For folks who are elderly or disabled.Door opener can work with remote controller and intelligent speakers,like Alexa, Echo
Easy for installing,without change existing door structure.

Computer size,nice appearance and modern design.

System can apply with sensor,remote control,push button,pet switch,photocell,card reader,lock and so on.

Window and door mode can be switched Arbitrarily.

433.92hz module ,can be suit with smart-home.
Residential Sliding Door Opener Technical Specifications
| | | | |
| --- | --- | --- | --- |
| Residential sliding door opener | | | |
| Power supply: | 100-240V | Max weight: | 80kg |
| Max width: | 5 meters | Standard track: | 1 meter |
| Color: | White/Black | Length of track: | 0.5 meter/pc |
| | |
| --- | --- |
| WiFi Switch | |
| Working Voltage: | AC/DC 12~24V |
| Quiescent Current: | 85mA (12V) |
| Action Current: | 115mA (12V) |
| Press Method: | 1S pressing to open door, 5S pressing to enter matching status. |
|  Security Mechanism: | Allow the first register as user manager |
| Output: | Relay Signal |
Mode And Parameter Adjustment Introduction
Five mode available
Automatic Mode: The door will open when a sensor is triggered and close after the preset dwell time has elapse(all signal working normal)
Hold-open Mode: The door will open and remain open until another mode is selected.
Lock Mode: Door will close and remain closed until another mode is selected.
Pet Mode: For use with pet sensors and when a pet opening width has been set. Will open the door to the pet opening width when any pet sensor is triggered and close after the preset dwell time has elapsed. 
Manual Mode: The door can be manually operated, the system will not drive the door.
Parameter Adjustment
Speed: Opening 10-45cm/s, closing 10-25cm/s (adjustable)
Opening time: 0-20s (adjustable)
Learning Button: Learning button of remote or wireless push button, added and delete remote process.
Learning Led: Remote learning indicator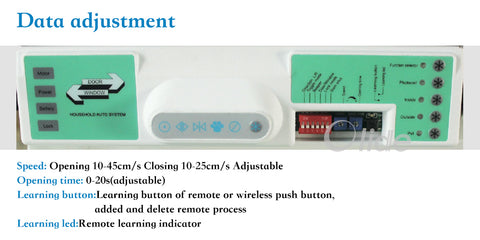 Installation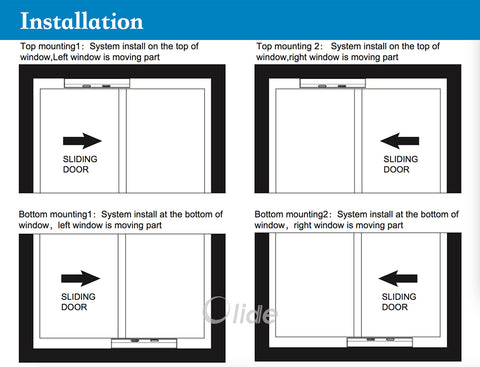 Wiring Diagram With Wifi Switch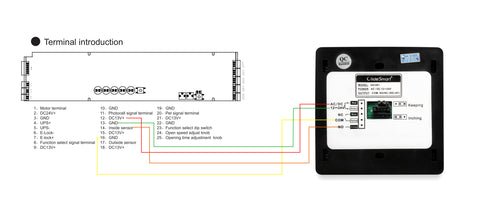 ---
We Also Recommend
---
Can Alexa switch modes with wifi app? For example can Alexa switch from normal mode to secure mode?

Hi,

The mode can not switched via Alexa, you can only change mode by press the button on the controller.

Do you have a similar product but the app using Tuya?

Hi, there is the package that work with tuya smart app, but it can not connect with Alexa and Google home:
https://www.olidesmart.com/collections/residential-sliding-door-opener/products/casa1-wifi-pocket-electric-sliding-door

Can I have a wiring diagram? the one on the website is not clear.

Hi, please find it here:


Do you have a video of the opener being installed on the bottom of a patio door?

Sorry, we don't have it yet.

Hi what's the app?

Hi,
The app called "eWe-link", you can download in app store.

Hi does the door have a stop sensor if a child is in the doorway?

Yes, here is the link for safety sensor:
https://www.olidesmart.com/collections/accessories/products/olidesmart-microwave-infrared-sensor

can i add motion sensor for pets to wifi version

Hi Peter,

Yes, you can add pet sensor to the wifi version
Here is the link of the sensor:
https://www.olidesmart.com/collections/accessories/products/wireless-pet-sensor