DIY Home Automatic Sliding Door Opener with Smart Pet Tags
Automatic Sliding Pet Door Working Video
DIY Home Automatic Sliding Door Opener with Smart Pet Tags
DIY home automatic sliding door opener with smart RFID tags, which enable pets, such as dogs and cats, and people to use conveniently. 
DIY home automatic sliding door opener suitable for small framed doors such as patio doors, kitchen doors at home or offices, but not for frameless glass doors. 
The track of home automatic sliding door opener is separate from the machine. Each track is 19.69inch(0.5m), the standard track we send is 39.37inch(1m) and the track can be added according to the width of the door, if you need extra track, please contact with us.
The smart RFID tags divided into pets and humans use. Pets have a paw icon, but humans do not. It is convenient for some people with disabilities to use, can be carried around, pollution-free and safer.
In particular, the intelligent chip is built inside the smart collar sensor, so that you can also directly download the mobile phone APP "eWe-link" for remote control of the door. And it can also be connected to smart speakers such as Alexa and Google home. While it is convenient for pets to enter and exit, it also brings many benefits to owners~
DIY Home Automatic Sliding Door Opener
Small size and exquisite appearance, especially suitable for home use;
Easy installation(we have installation video), can do it yourself, without change existing door structure ;
Wide voltage design, 100-240V AC available;
A variety of modes can be selected, can be set in different situations;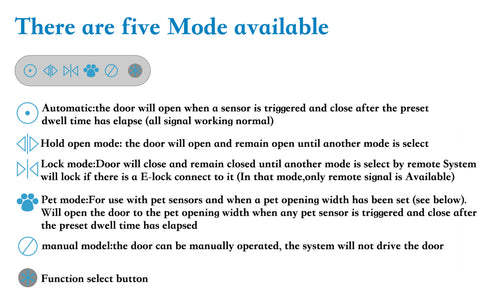 Equipped with a multi-function remote control and wireless push switch to meet daily door opening needs;
Multi-function port design, can connect kinds of access control equipment;
Wiring Diagram with Smart Pet Tag
The door opener can be installed on the top or bottom of the door (if there is not enough space at the top), it can be opened to the left or right, the position of the motor can be changed when installing.
How to Connect the 504W Receiver to CASA1 Door Opener
---
We Also Recommend
---
Which electronic lock is compatible with this sliding door opener? Is it compatible with vinyl patio sliding door? Please provide the installation manual

Hi,

Currently, we only have the magnetic lock, but no compatible bracket to work with the sliding door opener. You may can find the bracket in local store.

What are the functions of the "ewe-link" app? Can you turn on and off the auto door from the app while you're not at home?

Hi, you can open the door from eWe-link APP, but can not close or lock the door. In general, the door will automatic open and close when you open the door from the app.

What happens if I pull on the door handle to open the door while in pet mode?

The CASA1 sliding door opener can be manually open in any mode if there is no electric lock or mechanical lock.

Hi, can this door do MULTIPLE MODES at the same time for example Pet Mode and Manual Mode at the same time

Hi,
Sorry, it can not. You can only choose one mode when it's working.

When you turn off the auto door do you fight the auto door motor to open manually?

Hi,

If the power is turned off, the door can be opened manually.

DIY HOME AUTOMATIC SLIDING DOOR OPENER WITH SMART PET TAGS can I add the OS1001 AUTOMATIC DOOR WIFI SWITCH WORK WITH ALEXA, GOOGLE HOME?

Hi Tate,

I think you don't need to add, because the smart pet tags have the function, you can download the phone app "eWe-link", and connect with the door opener system, you can use phone control the door.

Does the opener have auto-reverse? I have a small dog and don't want her to be crushed.

The automatic door has a rebound function when it is blocked, but it will rebound after a certain pressure; Or you can use an anti-pinch sensor to avoid crushing pets in the door.