No Touch Automatic Swing Door Operator with Slim Wave to Open Switch
Olide-120B Automatic Swing Door Opener Installation Video
No Touch Automatic Swing Door Operator with Slim Wave to Open Switch
Olide-120B automatic swing door operator with slim wave to open switch, wave to open the door without touch, cleaner and safer.
Olide-120B automatic swing door opener can be operated both manaully and automatically, commonly used in entrances and exits of residential and commercial places, such as bathroom, bed room, front door and commercial use shop mall, restaurant, hospital, store front door, apartment door, etc.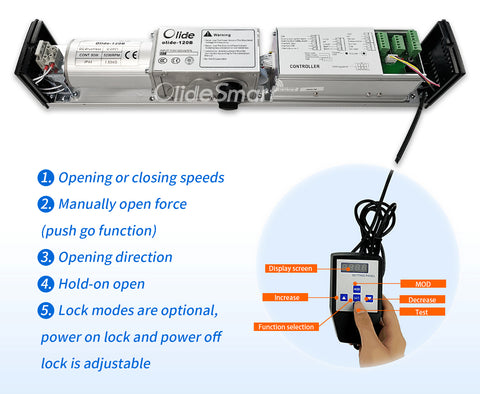 Olide-120B automatic swing door operator equipped with hand programmer, which is easier to adjust parameters, opening and closing speeds, manually open force(push and go function), opening direction, hold-open time, lock mode, etc.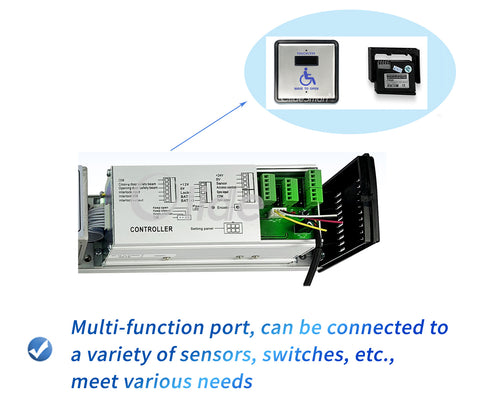 Intelligent multi-port and multi-function controller is also one of the features of the olide-120B automatic swing door opener. It can connected with WiFi switch, to realize control the door by phone APP and smart speaker; wiring with electric lock, can better meet your needs for fire protection and safety.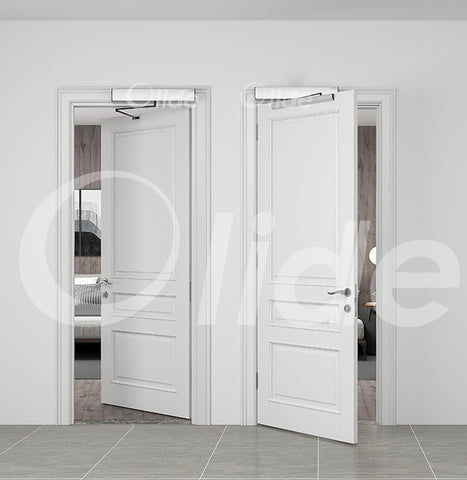 Olide-120B automatic door opener with 2 arms, push and pull arm, both inswing door and outswing door can suitable. Suitable door width from 27.5"-47.2"(70-120cm), and Max. door weight is 120kg, common wooden door, glass door and aluminum door are suitable.
Olide-120B automatic swing door operator manual
Features of Slim Wave to Open Switch
508 Wireless slim wave to open switch manual
514 Wired slim wave to open switch manual
Wireless slim wave to open switch receiver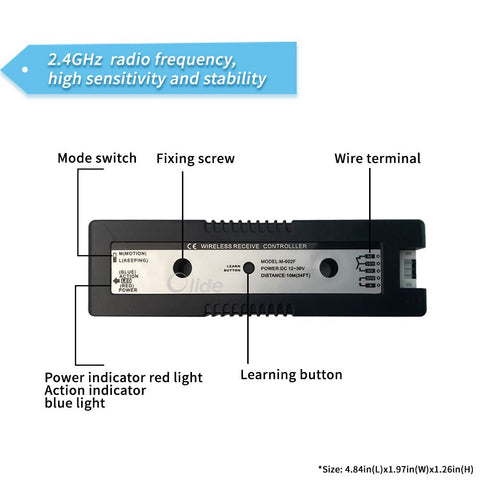 Narrow panel design, more flexible installation;
Adopts infrared modulation and demodulation, which is not easy to be misjudged by interference;
Non - contact induction with hands or reflective objects, clean and hygienic;
The induction distance is adjustable from 3-30cm. It can be adjusted for different occasions;
High sensitivity infrared , quick response;
Wireless transmission adopts 2.4g wireless communication technology, with good frequency consistency and high wireless transceiver stability;
Low power consumption sensor panel design, long battery life;
Receiver large capacity output, can be used with automatic door, and access control;
After receiving the signal, the door opening signal is output for 1.5 seconds. It is equipped with LED indicator;
Receiver wide voltage input design, 12 ~ 30V DC power input.
No Touch Automatic Swing Door Operator Applications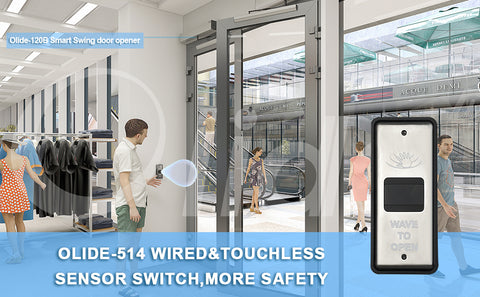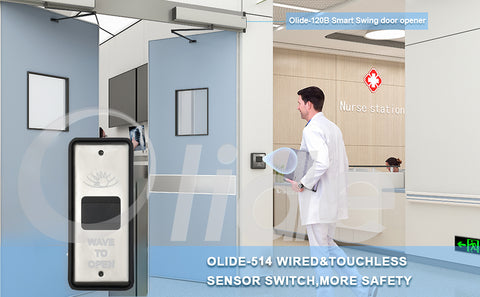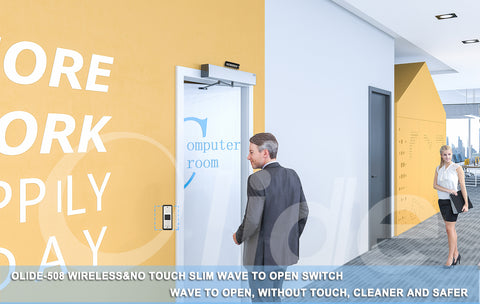 Olide-120B Automatic Swing Door Technical Specifications
Voltage: 110-220 VAC +/-10%
Power Consumption: 50W
Opening Time: 3-7 sec. @ 90 degrees
Hold Open Time: 1-30 sec. Adjustable
Max. Door Frame Depth: 450mm / 17.7"
Door Width: Min. 660mm / 26"; Max. 1200mm / 47.2"
Max. Opening Angle: 120 degrees
Environment Temperature: -20C to 50C; -4F to 122F
Protection Class: IP12D
Product Weight: 9Kg 19.8lbs
Dimensions: L540 x H100 x W80mm
                     L21.2" x W3.9" x H3.14"
Olide-120B Wiring Diagram with M-508 Wireless Switch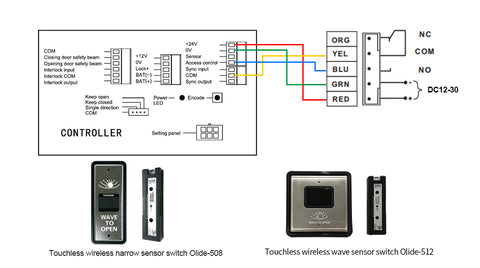 Olide-120B Wiring Diagram with M-514 Wired Switch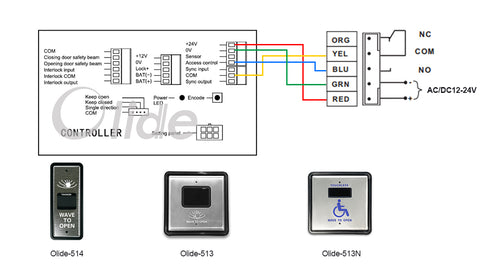 ---
We Also Recommend
---
QUESTIONS & ANSWERS
Have a Question?
Be the first to ask a question about this.
Ask a Question