Touchless Automatic Swing Door Commercial, Residential Handicap Door with Hand Sensor Open
Touchless Automatic Swing Door
Due to the long-term interaction between the indoor door and people, the automatic swing door can protect a variety of people (old people, children, disabled people).
Especially during the special times, non-contact opening and closing doors can reduce the risk of infection.
Olide-120B Automatic Swing Door Opener Manual
Olide-120bs Automatic Swing Door Opener With Passive Infrared Sensor
When there are obstacles and people in operation, the door will open automatically. No need to push the door open by hand.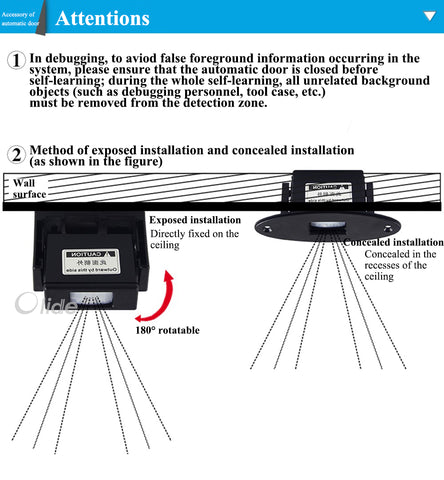 Olide-120bs Automatic Swing Door Opener With Hand Sensor Switch
Put your hand near the switch , the door will open automatically without pressing.
The product can be used for the sensing control of non-contact access control at entrance and exit, such operation is convenient, avoiding hand contact pollution.
Features for hand sensor switch
The infrared modulation and demodulation sensor will absolutely not generate any interfering or interfered signals.
Front non-contact sensing with a hand (or reflectance), clean and sanitary.
Adjustable sensing distance between 1cm and 20cm can be set freely adjusted according to different occasions.
Imported high sensitivity infrared sensor has timely and convenient sensing ability.
Wireless transmitting using RF 315MHZ can realize long and stable transmitting distance.
Olide-120bs Automatic Swing Door Opener With Smart WiFi Switch
Used with WiFi switch, it can be connected to smart devices such as mobile phones and speakers(Alexa). You can remotely open the door or let Alexa open the door directly.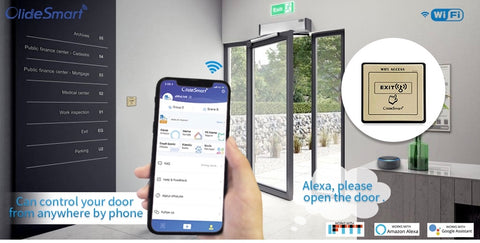 Olide-120bs Features
No transformer drive device has a wider voltage range.
Low operating noise, reliable performance, and safe use.
Providing more convenience for living and working environments.
The service life of more than 1 million times ensures that the equipment can be used for a long time.
The design of the mechanical part is innovative, making installation easier and faster.
Provide sensors, access control, safe light protection and other interfaces, and can equipped with electric locks and power output interfaces.
Automatic Swing Door Open Ways are Optional
You can choose the door opening method of the wireless remote control.  The door can be opened by hand when the power is off, ensure fire safety. It can also be configured with various sensors, card readers, push switches, smart switches, electric locks, etc. to realize the interlocking function between doors and support multiple access control systems.
With the continuous popularization of smart homes and smart buildings, we are constantly upgrading and expanding the ports. At present, our machine can be connected to the smart speaker Alexa, and can be opened and closed using a mobile phone.

Applications
Generally used in: hospital swing doors, restaurant, garage swing doors, household swing doors, residential quarters, public places, factory production areas, laboratories and other places.
---
We Also Recommend
---
Is there a specific model you have to get if you want to install on a left swing in apartment unit entry door? The person I am looking for lives in an assisted living building and just got a power wheelchair but can't open the door to exit/enter her apartment while sitting in the wheelchair. Do all models come with both a push bar and a pull bar?

Hi Kirsten, Thank you for visiting Olidesmart. Yes, all models come with push and pull arm. The max. bearing door weight of different models is different, generally if door weight less than 120kg, recommended model olide-120B (DSW120), it can connect with handicapped switch, which is convenient to the wheelchair people. Here is the link you can refer to: https://www.olidesmart.com/products/automatic-swing-door-opener-with-wireless-handicapped-switches Best Regards, Olidesmart