Olide DSW120 Smart Automatic Swing Door Opener, Phone APP Control Electric Door Closer
Olide DSW120 Swing Door Opener Installation Video For Push Arm
For Pull Arm Installation
Wireless Push Button Open the Door
Olide DSW120 Smart Automatic Swing Door Opener, Phone APP Control Electric Door Closer
DSW120 is a low energy automatic ada swing door opener that is activated by normal/handicap buttons.This system operates in both automatic and manual modes,In manual mode, door opens with very little pressure and closes slowly, providing easy operation for handicapped or pedestrians.
Package Listing
Kit 1:  Opener, 2 arms, 2pcs remotes, 1pc wifi remote, 1 pair wireless push button, 1pc hand programmer,1 plug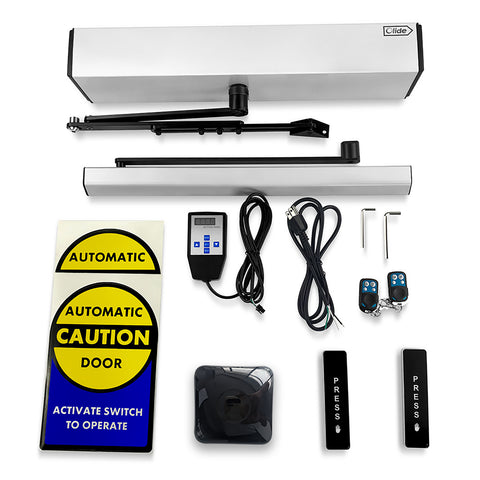 Kit 2: 
Opener, 2 arms, 2pcs remotes, 
1pc wifi remote, 1 pair push button, 1pc hand programmer,1 plug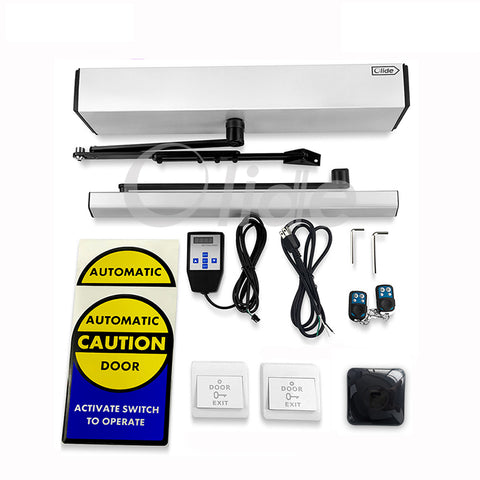 Kit 3: 
Opener, 2 arms, 2pcs remotes, 
1pc wifi remote, 1 pair hand sensor switch, 1pc hand programmer,1 plug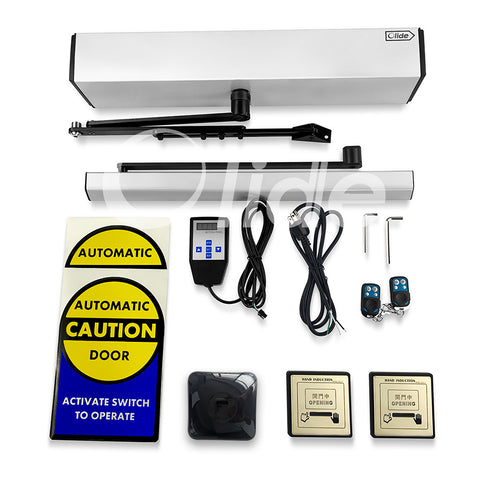 Kit 4: Opener, 2 arms, 2pcs remotes, 1pc wifi remote, 1 pair wireless&wired handicap push switch, 1pc hand programmer,1 plug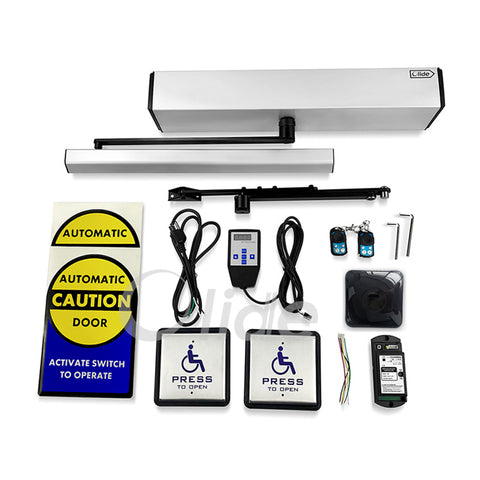 Features Of WIFI Universal Remote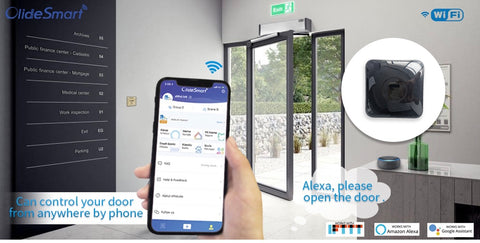 Universal IR control TV, STB, AC, DVD plater, AMP...;

Support Wi-Fi \ 3G \ 4G control;
Controlling 433MHz \315MHz RF devices like automatic door, curtain\shades motor,light switch...;
Local IR code for faster response;
Support external sensor accessory.
Automatic Swing Door Opener Mobile Phone Control Advantages
1. Reinforced high strength aluminum alloy and imported original parts used;
2. Imported motor from Germany with fast speed and service life of more than 1 million times, it can work stable and with smooth operation;
3. Microcomputer controller, more intelligent -- several sets of transistors are added inside the controller, and a set of protection switches can stabilize the voltage;
4. Universal voltage can widely used --It have made the transformer function directly in the controller, so you can connect AC110V/ AC220V directly to machine;
5. Multi-function interface- It can be connected with the electronic lock, the access control system and etc., and can be connected directly with sensor;
6. The Remote control distance can be more than 10 meters, and flexible adjustment of automatic door (lock, normally open, reset, automatic);
7. The swing door opener model SW120 can bear withstand the door weight of 120kgs(264.55lbs).
Smart Home System Door Entrance Hardware Details
Parameters easily adjustable by hand programmer
1.Opening or closing speeds
2.Manually open force (push go function)
3.Opening direction
4.Hold-on open
Door Opening Directions
DSW120 automatic swing door opener both equipped with push and pull arm, can open inward and outward; inswing open using push arm, and outswing open using pull arm.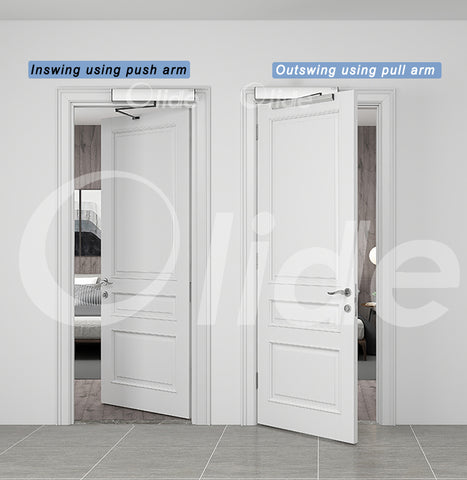 Wiring Diagram With Accessory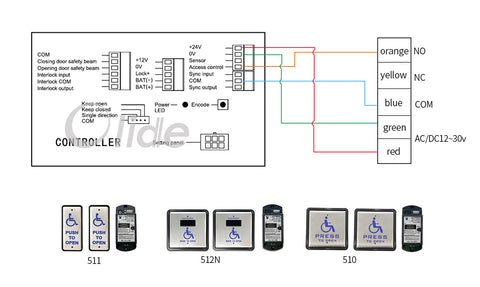 Automatic Swing Door Opener Technical Specifications
Swing application

one-way inswing or outswing open, single leaf and double leaf standard doors

Voltage

110-220 VAC +/-10%

Motor

DC 24V brushless motor

Power Consumption

50W

Opening Time

3-7 sec. @ 90 degrees

Hold Open Time

 

1-30 sec. Adjustable

Max. Door Frame Depth

200mm / 7.78"(with push arm)

Door Width

Max. 1200mm / 47.2" Min. 660mm / 26"

Max. Opening Angle

120 degrees

Environment Temperature

-20C to 50C -4F to 122F

Operation noise

Less than 55db
---
We Also Recommend
---
How to connect to my cell phone control dsw120 can you send me YouTube thanks

Hi,
Can you please tell me your order ID? I'll check what wifi switch you have. Different switches have different apps, connection methods are different.

Can the beep sound be turned off?

Hi, 
Sorry, there is no button to turn off the beep sound, but you can find the sound outlet on the controller, drop some glue, the sound will be weakened or not.

Does the lock feature on the remote disable the push plate entrance button so no one can enter when the place of business is closed

You should equipped with a magnetic or an electric lock frist. Then, when wiring, you need to pay attention to the switch to be connected to the sensor port, then the "lock" button on the remote control can disable the outside switch.

How does it work when power off or power failure?

When power off or power failure, the door can be open manually.Or you can install backup battery,so the door closer can work normally.

Can I push open the door manually?

Yes,you can, it has push and go function

I have a DSW120 that works great when someone pushes the button and walks in. The door is set to a delay and then it closes perfectly. Unfortunately, when someone opens the door manually, they sometimes grap the door to keep it from swinging wide open. This causes the door to stay open and make small movements like it is trying to close but it can't. is there an adjustment that will allow the door to recover when someone doesn't allow the door to fully open?

Hi,
To return to the original state, you can try to power off and restart; If someone manually opens the door to a certain position, the door opener will remember the position, it will open to this distance every time.