Automatic Sliding Door Opener Residential Office Door With Microwave Sensor
Automatic Sliding Door Opener Residential Office Door With Microwave Sensor
Olidesmart residential automatic sliding door opener with microwave sensor, the microwave sensor transmits the signal to the automatic door motor, the door will open when receiving the signal, realize the automation of the door opening and closing. 
It is suitable for kitchen (inconvenient when holding things in your hand), office (people come and go, opening the door with microwave sensor is better than opening the door with a switch, more convenient and safer)
One complete set includes all of items above, there are two pieces microwave sensors,motor,one set wireless push switch,remote control,two pcs 50cm rack,mounting accessories.
Residential Sliding Door Opener Manual
Electric Kitchen/Office Sliding Door Closer Features 
1. Easy to install, without change existing door structure.
2. Compact size, nice appearance and modern design.
3. System can apply with sensor, remote control, push button, pet switch, photocell, card reader, lock and so on.
4. Window and door mode can be switched arbitrarily.
5. 433.92 hz module, can be suit with smart-home.
Automatic Residential Sliding Door Opener 
Technical Specifications
| | |
| --- | --- |
| Power supply:  | 100-240V |
| Max weight: | 80kg |
| Max width: | 5 meters |
| Standard track: | 1 meter(Length can be customized) |
| Color: | White/black |
| Lemgth of track: | 0.5 meter/pc |
| Applications: | Door of kitchen and balcony, office, shop front and aisle; french window or other sliding windows |
Kitchen Sliding Door Opener Automatic Installation
Wiring Diagram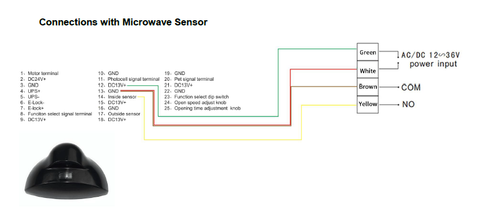 ---
We Also Recommend
---
My Sensor stopped work in need it replaced. what model is the correct one? I also saw the dog fob option does that work with the residential model? I also purchased a old model that could be used for wireless but never installed it can I exchange it for the newer model? Thank You

Hi Joshua,

Yes, the dog fob can work with residential sliding door opener, here is the link:
https://www.olidesmart.com/collections/sensor-for-automatic-door/products/olide-504w-smart-pet-collar-sensor-and-receiver

And may I know what is the "old model"? Could you please send us the picture?

Best Regards,
Olidesmart

AUTOMATIC SLIDING DOOR OPENER RESIDENTIAL OFFICE DOOR WITH MICROWAVE SENSOR Is this returnable if it does not fit or does not work for some other reason?

Hi David, 

Yes, it's returnable if it is not damaged, but you should take the shipping fee.
If there is any technical problem, we can help you to solve by email or phone.

Best regards,
Olidesmart