DSL16 Automatic Sliding Door Opener European-Style Dunker Motor
DSL16 Automatic Sliding Door Opener European-Style Dunker Motor
One complete set includes 1pcs motor, 1 pcs controller, 1pcs plug, 1pcs transformer, 4.2m rail and cover, 2pc microwave sensors, 1pcs Return pulley, 4pc glass hanger brackets, 2pc Belt connectors, 2pc End stopper, 6.8m belts, 8pc cable holders, 4pc dust brushes, 8pc mounting screws.
Note: rail and cover length customizable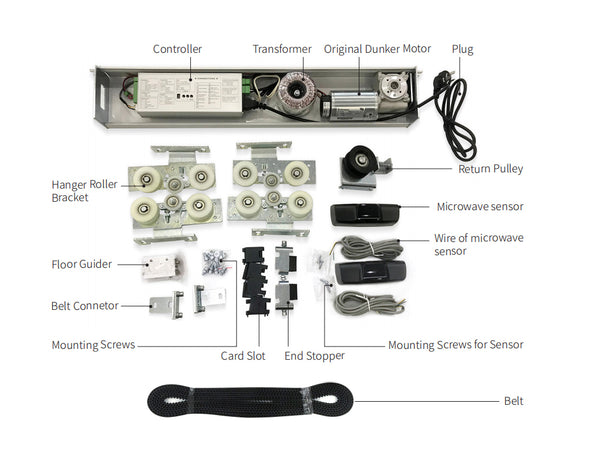 DSL16 D
unkermotor Automatic 

Sliding Door Features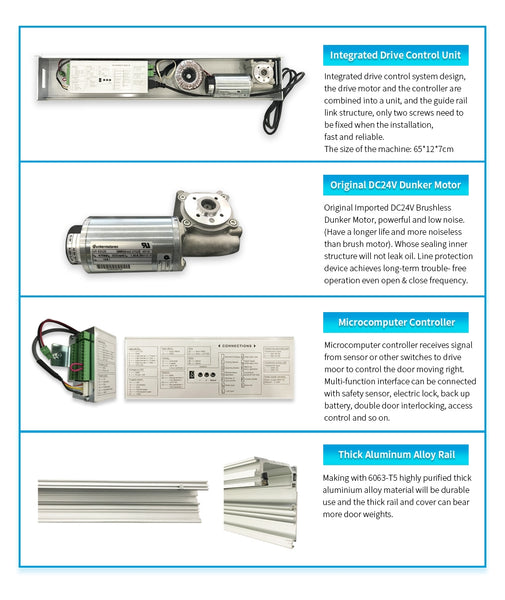 Integrated Drive Control Unit
Integrated drive control system design, the drive motor and the controller are combined into a unit, and the guide rail link structure, only two screws need to be fixed when the installation, fast and reliable. The size of the machine 65*12*7cm.
Original DC24V Dunker Motor
Original Imported DC24V Brushless Dunker Motor, powerful and low noise. (Have a longer life and more noiseless than brush motor). Whose sealing inner structure will not leak oil. Line protection device achieves long-term trouble- free operation even open & close frequency.
Microcomputer controller receives signal from sensor or other switches to drive moor to control the door moving right. Multi-function interface can be connected with safety sensor, electric lock, back up battery, double door interlocking, access control and so on.
High-Quality Thick Aluminum Alloy Rail
Making with 6063-T5 highly purified thick aluminium alloy material will be durable use and the thick rail and cover can bear more door weights.
The system will detect the weight of the door and the size of the door, adjust the running parameters, so that the automatic door to maintain the best running state. The unique mute tape absorbs the noise when the roller is running and keeps the environment quiet.
Dunkermotor DSL16 Sliding Door Opener  Technical Specifications
Model:
DSL16
Door Range:

Single Leaf 

Double Leaf 

Weight of Door Leaf:

120kg*1   

100kg*2

Width of Door Leaf:

700-1400mm     

800-2000mm

Opening Speed:
100-500mm/s (adjustable)
Closing Speed:
100-400mm/s (adjustable)
Supply Power Voltage:
AC220V; 50Hz-60Hz 2A
Motor:
DC24V Brushless Dunker Motor
Rated Power:
50W
Environment Temperature:
-20° ~ +50°C
Environment Humidity:
<Relative humidity 85%
DSL16 Automatic Induction Door Accessories Details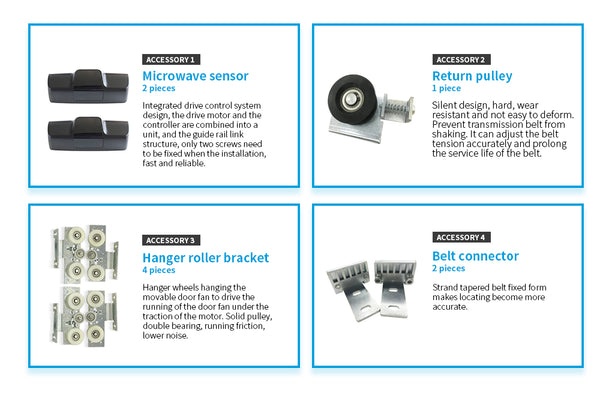 Microwave sensor 2 pieces
24.125Ghz microwave sensor module import from Germany unaffected by temperature, humidity, highest installing height reaches up to 4m, easy to install, with great anti-jamming capability.
Return pulley 1 piece
Silent design, hard, wear resistant and not easy to deform. Prevent transmission belt from shaking. It can adjust the belt tension accurately and prolong the service life of the belt.
Hanger roller bracket 4 pieces
Hanger wheels hanging the movable door fan to drive the running of the door fan under the traction of the motor. Solid pulley, double bearing, running friction, lower noise.
Belt connector 2 pieces
Strand tapered belt fixed form makes locating become more accurate.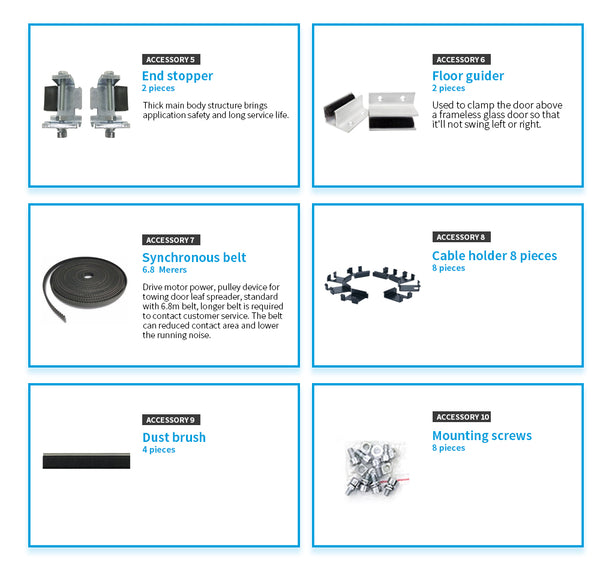 DSL16 Automatic Sliding Door Opener Profile Drawing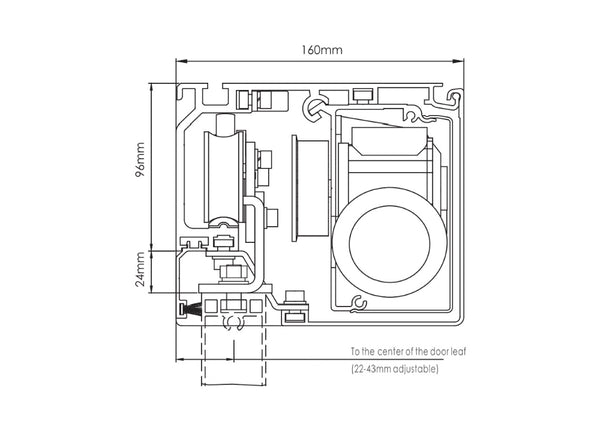 Application of the Sliding Door Opener
DSL16 Dunkermotor sliding door opener is suitable for office buildings, stores, banks, restaurants, hotels, shopping centers, laboratories, hospitals and other places.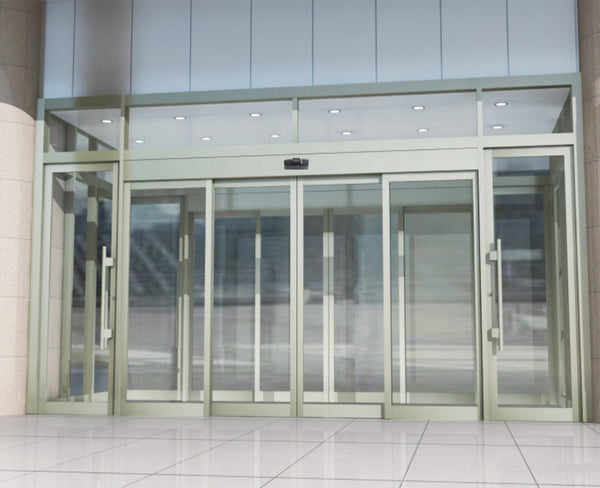 DSL16 D
unkermotor Automatic Sliding Door

 Package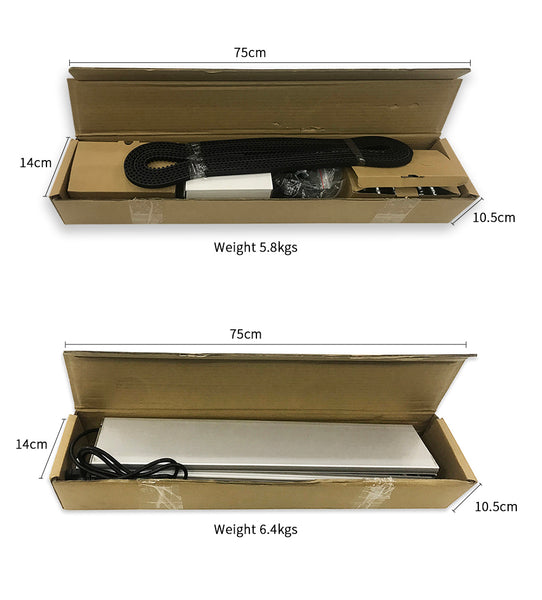 About the Size of the Door
Generally the door is divided into single and double doors, usually two fixed, two moving. The movable door and the fixed door will have 3-5cm overlap part (as following)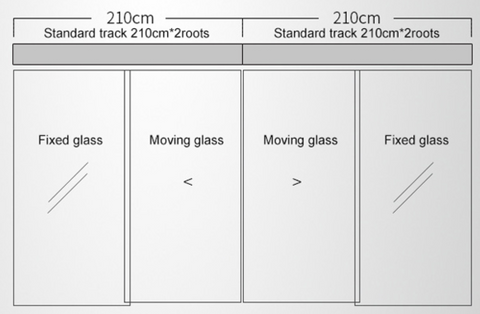 Glass height suggested to be less than 260cm
FAQ
1. The door opener can work with framed or frameless door?

Yes, it can be. If the door is a frameless door, you should purchase extra glass clamps, please send us messages, then we can help you add extra cost for glass clamps.

2. The door opener can work with wooden door, aluminum glass door, framed / frameless door?

Yes, it can be.

3. Other access control system can work with sliding door opener?

Yes, if you need to add another accessories, like electric lock, access keypad,remote control and etc., please send us messages, then we can send you a total price.

4. Can we accept return?

As for the return, if it is because of the product itself, we accept the return. Other problems are not refundable.

5. Maximum length of door dimensions?

The standard length of the rail and cover is 2.1m for a single sliding door, 4.2m for a double sliding door. If you need other measurements, please send me message to confirm. The maximum length is about 2.6m for a single door, and 5.2m for a double sliding door. As the length increases, so does the freight.
---
We Also Recommend
---
QUESTIONS & ANSWERS
Have a Question?
Be the first to ask a question about this.
Ask a Question