Olidesmart Contactless Automatic Sliding Door SD280 pair with No Touch Sensor Switch
Olidesmart Contactless Automatic Sliding Door SD280
As we all know, the epidemic has spread all over the world, and people's safety has been greatly threatened for this. Even though, we can still protect ourselves and others from all aspects. The entrance and exit of buildings are the first line of defense. Try to be as contactless as possible to avoid being infected.
Contactless automatic sliding door suitable for airports, stations, hotels, hospitals, shopping malls, and office buildings. Not only can people pass quickly without contact, but they can also reduce the rate of direct contact between people and doors, which can reduce contact, virus infection.
Non-contact Door Opening Methods
Contactless Automatic Sliding Door With Hand Sensor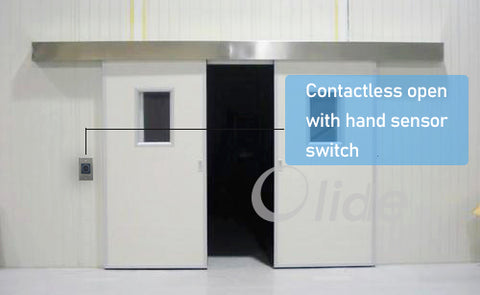 Use hand sensor switch(no touch) to open the door, high sensitivity, humanized sensing range, sensing distance can be adjusted in the range of 1-20cm, can be set by yourself, non-contact sensing, convenient, simple, clean and hygienic.
Contactless Automatic Sliding Door with Microwave Sensor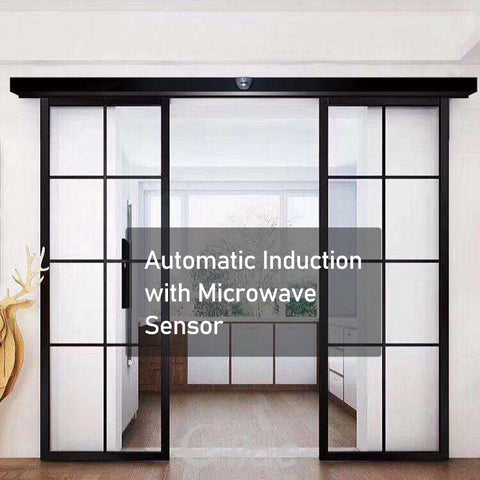 Microwave radar responds to the displacement of objects, so it is suitable for places where people with fast reaction speed and normal walking speed pass. Its characteristic is that after people near the door do not want to go out and stop, the radar no longer responds and the automatic sliding door will closes. It has a certain protective effect on automatic sliding door.
Contactless Automatic Sliding Door with Remote Control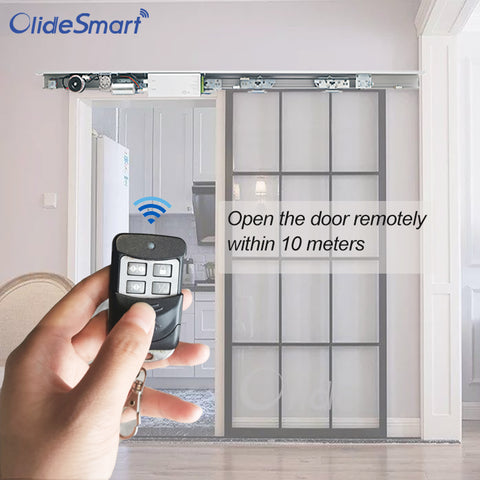 4 function keys of remote control, auto, normally open, half open, lock door, meet your diverse needs.
Contactless Automatic Sliding Door SD280 Including
Automatic Sliding Door SD280 Features 
The control system of the automatic door adopts a built-in microcomputer chip to automatically set the control process. The opening and closing speed and opening time can be adjusted, and the automatic door can maintain the best condition for a long time with high intelligence.
Sensitive 500 milliseconds response to resistance, realizes automatic rebound and anti-pinch protection; the position of the blocking point will be accurately memorized, and the next time the door is closed, it will approach the blocking point slowly, making the closing safer.
The package is equipped with microwave sensor and remote control, but it can also work with electric locks, card readers, face recognition systems, WiFi switches, etc. To meet the diverse needs of commercial and residential.
If you need extra accessories, please contact with us or click the product link.
Automatic Sliding Door Size Measurement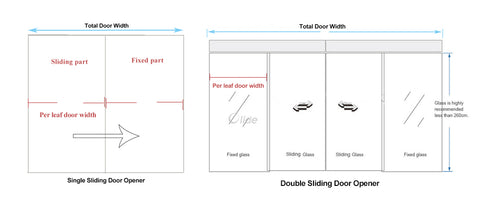 Please confirm the door width, if it's a single sliding door or double sliding door, framed door or frameless door, so that we can send you correct size of track and cover, frameless door will need glass clamp to fixed the machine.
SD280 Technical Specifications
---
We Also Recommend
---
QUESTIONS & ANSWERS
Have a Question?
Be the first to ask a question about this.
Ask a Question