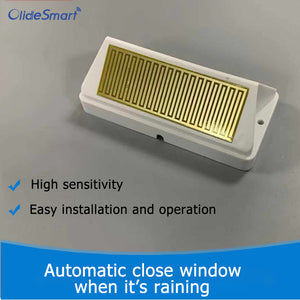 Wireless Rain Sensor Work with Automatic Window Opener
Wireless Rain Sensor Work with Automatic Window Opener
Wireless Rain Sensor Characteristics
Exquisite appearance design;
UV-resistant housing, suitable for outdoor use;
45°angle design for rain sensing surface, easy to keep the induction plate dry;
ENIG process is adopted for the induction plate with strong antioxidant capacity;
Sensitive response to rain;
Multiple devices can be connected.
Product Parameters
Working frequency of induction system: 433.92MHz
Working voltage: DC5V-24V
Working temperature: -20℃~+85℃
---
We Also Recommend
---
Can the WIRELESS RAIN SENSOR WORK WITH AUTOMATIC WINDOW OPENER work with the Olideauto Automatic Single Chain Window Actuator Model SD300 with 11-4/5'' Travelling Distance? Do I need a different controller?

Hi,
Sorry, the wireless rain sensor can not use with SD300 window opener, they are not compatible.