Olidesmart Wireless Wired Touchless Infrared Switch, Hand Wave to Open Switch
Olidesmart Touchless Infrared Switch
There are 4 types of switch, model M512, it's include switches and receiver, it's wireless square one; Model M513, wired touchless infrared sensor swtich, only including square switches; M508 is slim wireless wave to open switch; M514 is slim hardwired sensor switch button.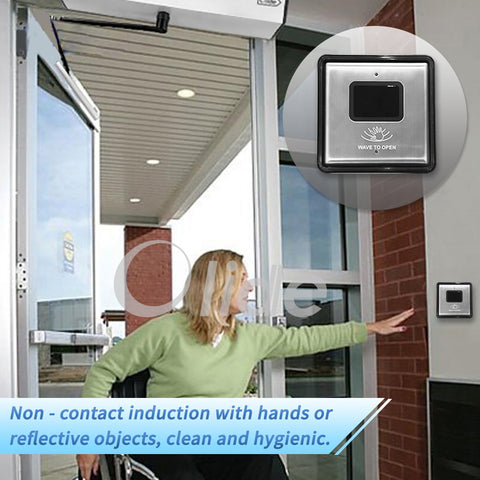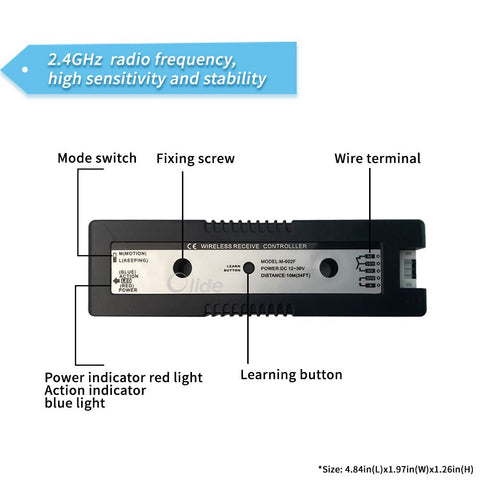 M512 Wireless Touchless Infrared Switch
M513 Wired Touchless Infrared Switch
Olidesmart M512 Wireless Touchless Infrared Switch Features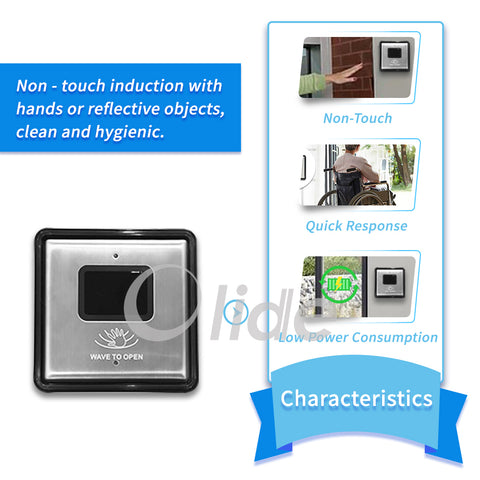 Adopts infrared modulation and demodulation, which is not easy to be misjudged by interference.
Non - contact induction with hands or reflective objects, clean and hygienic.
The induction distance is adjustable from 3-30cm. It can be adjusted for different occasions.
High sensitivity infrared , quick response.
Wireless transmission adopts 2.4g wireless communication technology, with good frequency consistency and high wireless transceiver stability.
Low power consumption sensor panel design, long battery life.
Receiver large capacity output, can be used with automatic door, electric lock and access control.
After receiving the signal, the door opening signal is output for 1.5 seconds. It is equipped with receiving buzzer and LED indicator.
Receiver wide voltage input design, 12 ~ 30V DC power input.
M513 Wired Non-touch Infrared Switch Features
Stainless steel metal panel design, with a special bottom box, convenient for a variety of occasions installation.

Low relay signal output can be used with automatic door, access control system.
M512 

Technical Specifications
Receiver
Power supply:
AC/DC 12-30V
Static current:
30mA 
Action current:
74mA (DC12V power supply)

Main contact capacity

(wireless receiver):

3A   30VDC
| | | | |
| --- | --- | --- | --- |
| Wireless Switch |   | | |
| Power supply: | 6V (4pcs AA batteries) | Static current: | <=80uA |
| Battery life: | 500times/day,can use 450days | Emission current: | 10mA |
| Infrared modulation frequency: | 38KHz | Infrared scanning interval: | 100ms |
| Response time: | <=130ms | Launch distance: | more than 30m in the open area |
| Working temperature: | -42°C~45°C | Working humidity: | 10~90%RH |
Size: 129mm(L)x129mm(W)x46mm(H)  panel
123mm(L)x50mm(W)x32mm(H)     Receiver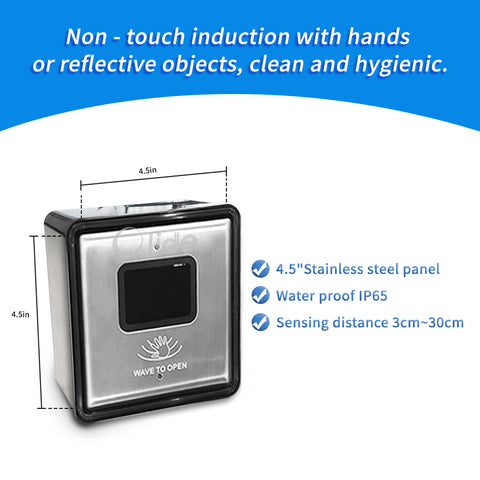 M512 Wave to Open Switch Wiring Diagram with Olide-120B Automatic Swing Door Opener
---
We Also Recommend
---
Programmer reads ERR4? Have gone back to check everything. Door will not open with the wireless Wave buttons?

Error 4 means there was an error in exchanging data between the controller and the debugging handle;

This error may occur if the debug handle is plugged in before the controller is powered on. The correct way is to power up the controller first, and then plug in the debug handle.

If this error has already occurred, you need to replace the debugging handle or the controller to re-debug. 

 

You can try let them work independently first; if there is still shows error4, swap controllers or debug handles and try again.