Touchless Automatic Swing Door Opener Olide-120B with Wave to Open Switch
Touchless Automatic Swing Door Opener Olide-120B with Wave to Open Switch 
Package List
There are 4 options, square wireless, square wired; slim wireless, slim hardwired, can be selected when placing order.
Manual for Olide-120B Automatic Swing Door Opener
Advantages for Wave to Open Door
The wave to open switch is a contactless active infrared induction smart switch. Its main feature is to realize the switch control of the circuit by waving at a certain distance from the switch panel.
It's an active infrared sensor switch, which is mainly used in Hospitals, laboratories, offices, public washrooms, kitchens, toilets and other areas to achieve simple and convenient door control in contactless mode.
The product can be used for the sensing control of touchless access control at entrance and exit, such operation is convenient, avoiding hand contact pollution.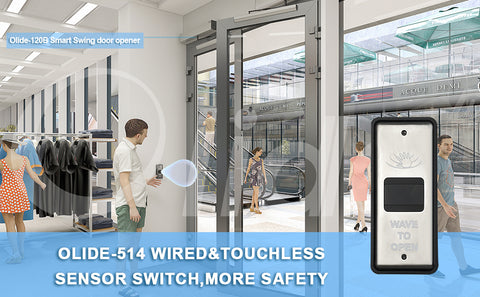 Wave your hand near the switch , the door will open automatically without pressing.
Features For Wireless Wave to Open Switch
Adopts infrared modulation and demodulation, which is not easy to be misjudged 

by interference.
Non - contact induction with hands or reflective objects, clean and hygienic.
The induction distance is adjustable from 3-30cm. It can be adjusted for different occasions.
Manual for wireless wave to open switch M512
Olide-120B Automatic Swing Door Opener Features
1. Reinforced high strength aluminum alloy and imported original parts used;
2. Imported motor from Germany with fast speed and service life of more than 1 million times,it can work stable and with smooth operation;
3. Microcomputer controller, more intelligent -- several sets of transistors are added inside the controller, and a set of protection switches can stabilize the voltage;
4. Universal voltage can widely used --It have made the transformer function directly in the controller, so you can connect AC110V/ AC220V directly to machine;
5. Multi-function interface- It can be connected with the electronic lock, the access control system and etc., and can be connected directly with sensor;
6. The Remote control distance can be more than 10 meters, and flexible adjustment of automatic door (automatic, normally open, normally closed, semi-open);
7. The swing door opener model Olide-120B can bear withstand the door weight of 120kgs(264.55lbs);
8. Can be used for single or double doors, frameless or framed doors;
9. Easily adjust parameters by hand programmer.
Pull Arm and Push Arm are Optional
Wiring Diagram With Wireless Wave to Open Switch 
Wiring Diagram With Wired Wave to Open Switch
---
We Also Recommend
---
comment se procurer la notice de montage en français? Merci

Hi,
Désolé, nous n'avons pas de manuel en français pour le moment

Is it waterproof?

Yes, it's waterproof. And there are wireless and wired available

We have installed the Olide 120b with the wireless switch M512 and are beside ourselves trying to open or close, and getting the wave sensor to work. Wiring instructions are a little ambiguous, we need help.

Hi William,

The previous wiring diagram is wrong, we have updated the correct wiring diagram on the product details page, please check it, or please tell me your email and I will send it to you.

Best Regards,
Olidesmart

Hi, I have got Err4 on handheld programmer. How to clear this one?

Error 4 is not repairable and the only way to fix it is to change the controller or debug handle; if the controller is working properly without hand programmer, you can try changing a new programmer first.
If you don't have another controller or hand programmer, please contact with us.

What is a error code 4 mean?

Hi,
Error 4 means there was an error in exchanging data between the controller and the debugging handle;
This error may occur if the debug handle is plugged in before the controller is powered on. The correct way to do this is to power up the controller first, and then plug in the debug handle.
If this error has already occurred, you need to replace the debugging handle or the controller to re-debug.