DSW120 ADA Automatic Swing Door Opener with Wireless&Wired Handicapped Switches
More Video(Include installation video)
DSW120 automatic swing door opener manual
Automatic Swing Door Opener with Wireless&Wired Handicapped Switches
Automatic swing door opener equipped with handicap door button, once you push the button,it will sends a brief signal to the wireless receiver connected with the ADA door opener, then the door will open and keep open, so that people with disabilities can go in and out of places freely and safely.
Push button mode can be selected, wireless and wired available;

PUSH&GO FUNCTION:Manually push force can be adjusted;

Automatically re-open door if it notices an object in the closing path;

Easily set all of parameters by hand programmer;

Wide voltage technique workable with input voltage AC100V to AC240V;

Interfaces with handicapped push switch,electric strike (lock),wireless push switch,body sensor,access lock,etc.
Olidesmart DSW120 ADA Automatic Swing Door Opener Features
Suitable for office buildings, shop, banks, hospitals, restaurants, factories, hotels, shopping centers, laboratories, etc., to ensure maximum walking and cargo transportation.
The microcomputer controller uses the top technology, can detect the condition of the door (size, weight), set the optimal operating parameters, keep the door in the best running state, and have the function of memory and correction; high intelligence. With the use of the remote control, it is possible to limit the entry and exit of personnel, and to eliminate the safety of unmanned lock doors.
When the door leaf is in the process of closing the door, if an obstacle or an abnormal situation such as the human body is encountered, the door leaf can be immediately reversed and retracted to prevent the occurrence of pinch events or mechanical damage, and ensure the safety of personnel entering and leaving. When the power is off, you can open the door with your hand.
High-quality design and production ensure unimpeded flow. At the same time, excellent sound insulation, heat insulation and dustproof effect can ensure the building's energy consumption.
The shape, appearance and function of the door can be adjusted according to your requirements to achieve the best results.
Provides interfaces such as sensors, access control, and safety sensor protection, and is equipped with an electric lock and a power output interface. Can choose the wireless remote control to open the door.
Opening Direction
Wireless Handicapped Switches Automatic Swing Door Opener Technical Specifications
Swing application:

one-way inswing or outswing open, single leaf and double leaf standard doors

Voltage:

110-220 VAC +/-10%

Motor:

DC 24V brushless motor

Power Consumption:

50W

Opening Time:

3-7 sec. @ 90 degrees

Hold Open Time:

 

1-30 sec. Adjustable

Max. Door Frame Depth:

200mm / 7.87"(with push arm)

Door Width:

Max. 1200mm / 47.2" Min. 660mm / 26"

Max. Opening Angle:

120 degrees

Environment Temperature:

-20C to 50C -4F to 122F

Operation Noise:

Less than 55db
Wiring Diagram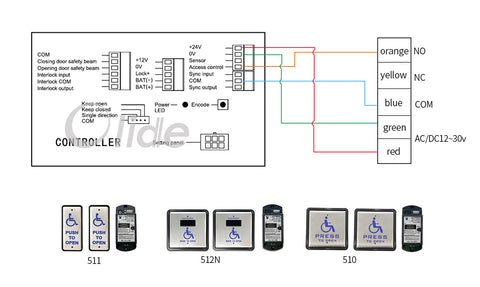 ---
We Also Recommend
---
im getting error code 4 when trying to program why and how can I fix that?

Hi, the error 4 is caused by an error in the data exchange between the controller and the debug handle. We suggest re-start the door opener for times, and power the controller first, then plug the hand programmer. If you plug the debug handle first, communication is delayed, and will have the error.
If it doesn't work, please replace the programmer. If you don't have other programmer, please contact with us.

Our church has what I call typical dark bronze aluminum frame glass doors. Two questions - 1. Will the DSW 120 be strong enough for that type door in your opinion? 2. How does the black look on a dark bronze frame? Do you think it will be too stark of a color difference? Do you have any photos of a black unit on a dark bronze door? Thanks.

Hi Ken,

What's the door weight? If it's under 120kg, DSW-120 is workable.
You can compare the color of black with your door, I think it's ok, it's not much different, better than silver color. And sorry, we don't have a photo of a black machine installed on a bronze door.

If you need a picture for black door opener, I can send you.

Best Regards,
Olidesmart

My wireless control will not programa

Hi Dear,

May I know if it's the wireless remote control? Or other wireless device? 
If it's the remote control, please refer to the product manual or you can just call our tech-support in USA:218-221-1010

Best Regards,
Olidesmart

The door opens but bounces back from the fully opened. Not giving time for the wheel chair though.

Please try to add hold closing force, if it doesn't work, please check the open direction, if the open direction parameter is set reversed, the door won't work properly either. If neither works, please take a video and send it to us and we'll check to see if there's a problem with the mounting position. 
You can send the video to: tech@olideautodoor.com/sara@olideautodoor.com.

Can the door open to 180 degrees?

Hi,
Sorry, the Max. opening angle of the automatic door is 120 degrees.

My door keep opening and closing repeatedly, what should I do?

Hi dear,
Please try to increase closing force, 04-07 are ok, you can try different value to see which fits your door best.
Because the doors are different, some doors have a rebound force after closing, and will bounce back to open the door. The way to solve the problem is increase closing force, each door may be suitable for different values, you can try more times.