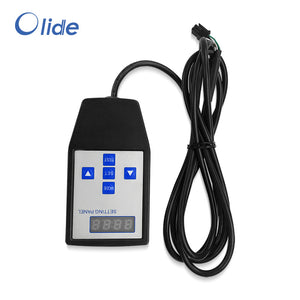 Hand Programmer For DSW120 Automatic Swing Door Opener
Hand Programmer For DSW120 Automatic Swing Door Opener
The hand programmer is using for adjust door opener parameters, such as hold open time, closing force, lock mode, etc...
Note: The hand programmer for model Olide-120BB is not compatible with model Olide-120B/BS, please choose the correct one when placing order.
---
We Also Recommend
---
Do you have a handheld programmer for the dsw 100n model

Hi,

Can you please send me a photo of the controller? We want to confirm the model. Or please tell me when did you buy the door opener, we'll confirm if 120B hand programmer can be used. Because we are constantly updating the controller, the debugging handle is not compatible with all controllers, we need to confirm which debugging handle you need through the controller and the time of purchase.

will this hand programmer also work with the dsw-100 model?

Hi Chad C Smith,

Sorry, the hand programmer can not suitable with model DSW100, beacause we have upgrade the controller, it's not applicable.

Best Regards,
Olidesmart

i have a Olide 510 installed and have a question. when the wind blows the door comes open a little and triggers the alarm. is there an adjustment that i can program to keep the door from opening when the wind blows? thanks

Hi,

You can try to increase the hold closing force, the higher the value, the less likely the door will be blown open by the wind.