Electric Window Opener Single Chain Greenhouse Skylight Closer DC24V
Window Opener Running Video
Olidesmart Electric Window Opener Single Chain Greenhouse Skylight Closer DC24V
Olidesmart electric single chain window opener, multi-stroke optional, DC 24V motor, simple and safe operation. It can be connected to smart devices, such as rain sensor, mobile phone APP, smart audio, etc., which can realize automatic window closing in rainy days, remotely control, mobile phone remote opening and closing, and timing functions. Small size and quiet operation, especially suitable for home use. 
Olidesmart Single Chain Automatic Window Opener Advantages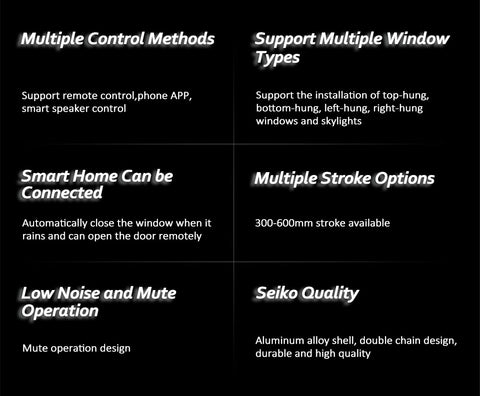 Convenient remote control, open and close windows at any time;
Remote control uses RF signal, remote control distance is 30m, can be controlled through walls.
One remote control can be connected to multiple machines and work at the same time.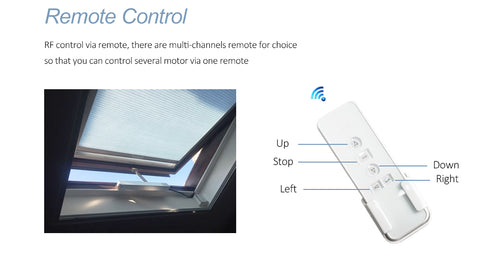 With wireless rain sensor and wind&rain sensor(extra buy), it can automatically open and close windows when windy or rainy, no need to worry about weather changes and forget to close the window. 
Note: extra rain sensor/wind&rain sensor needed with this function
Smart/tuya life phone APP control, also including timing function; 

When you forget to close the window, you can close the door remotely with your mobile phone.
Note: Extra wifi switch needed with this function
Free your hands, voice control; 
Extra wifi switch wiring with opener, you can use your smart speaker Alexa, Google home assistants control your window.
Note: Extra wifi switch and smart speaker needed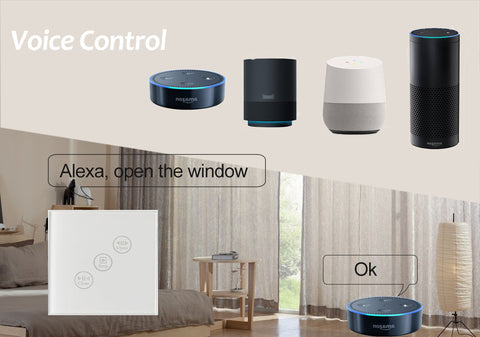 Single Chian Window Opener Features
High-quality steel with double-layer structure ( made of high-quality 304 stainless steel chain), which has strong pushing and pulling force and more stable and smooth operation;

Low energy consumption and low noise operation, built-in overload protection device to prevent motor short circuit;
Service life of the window opener is greater than 10,000 times, safe and durable;
Aluminum alloy shell, compact design and exquisite appearance;
Rotating bracket is easy to install, installed parallel to the window, takes little space, suitable for various window types;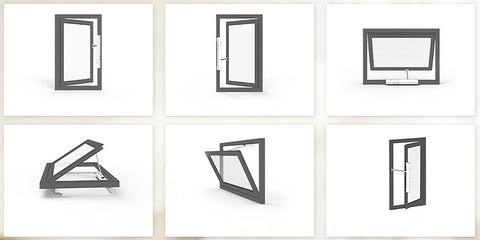 The color are silver and black (large quantity can be customized), and the window stroke is 300-500mm optional.
Window Opener Applications
High-level windows, windows are installed at a higher or too far distance, windows that cannot be reached by humans alone;
The windows are too heavy to open or close, and manual switches are inconvenient to use;
There are requirements for opening/closing windows by weather, such as windows that need to be closed automatically when it rains;
There are requirements for indoor constant temperature, such as the windows of vegetable or flower greenhouses;
There are requirements for indoor temperature. If the temperature is too high, the window will be automatically opened, such as the window of the communication room;
The indoor air index is strictly required, and timely ventilation is required;
The room needs a more suitable brightness, which needs to be adjusted by adjusting the angle of the blinds;
The windows need to be closed tightly and tightly, such as rainproof skylights;
For other special occasions, such as chemical, dust and other factory workshops, timely ventilation is required;
Green, smart and energy-saving modern high-rise buildings, such as curtain walls and windows;
Building automatic control, smart home control, etc.
Technical Specification 

window opener size

Parameters
| | | | |
| --- | --- | --- | --- |
| Receiver and Remote Control | | | |
| Input Voltage: | AC100-240V;50/60Hz | Loading Power:  | <=30W |
| Working Tem.: | -40°C - +85°C | Receiving Frequency: | 433.92MHz |
| Receiving Sensitivity: | -110dBm | Transmitters Quantity: | <=20 |
| | | | |
| --- | --- | --- | --- |
| Model | SD300 | SD400 | SD500 |
| Operating Power: | 24V DC | 24V DC | 24V DC |
| Degree of Protection: | 42 IP | 42 IP | 42 IP |
| Operation Ambient Temp.: | -10°C - +70°C | -10°C - +70°C | -10°C - +70°C |
| Push/Pull Force: | 300N | 300N | 300N |
| Max Load Bearing: | 40kg | 50kg | 60kg |
| Travel Distance: | 300mm | 400mm | 500mm |
| Speed: | 8mm/s | 8mm/s | 7mm/s |
Wiring Diagram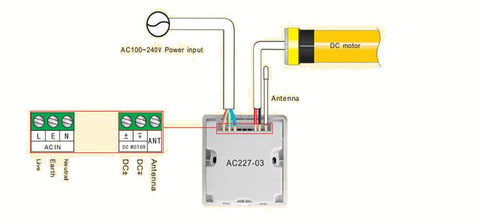 ---
We Also Recommend
---
Can it work with wind and rain detector?

Hi,

Yes, it can work with rain,wind sensor, and can work with rain sensor, smoke detecter, etc.

Hi, can i purchase 2 and have a wall controller operate both at the same time? I might possibly add a third later, could i also add that to the wall switch?

Hi, one-way switch can only connect with 1 device, otherwise it will burn out.  
If you want to hook up more than one unit, you can get multi-frequency controller, such as below, it's a 4-channel controller, can connect to 4 units in total.
https://www.olidesmart.com/collections/accessories/products/4-channels-automatic-window-opener-controller

In addition, if you want to control multiple devices at the same time, you might also want to consider a smart window opener, you can group control them in the app:
https://www.olidesmart.com/collections/os1003dc

Do these chain type openers have end stops? Do you hold the controller button until the chain stops, or does the chain stop automatically at the end of the open / close cycle. Can the controller button be pushed once to start motion, or do you have to hold the button for the full duration of the operation? Please describe controller operation with the actuator?

Hi,
If you want to open or close the window, just press the button, no need hold the button all the time, just press once. 
The window opener will stop automatically at the end of the open / close cycle. If you want to stop the opener at a certain position, you can press the stop key.
This device is equipped with push button/receiver and remote control, the button is hardwired, need to wiring with window opener; the remote control is wireless, it need pair with receiver, and then can control the window remotely within 10m.