Olide SD3108 Automatic Swing Door Opener Hardware Supplier
SD3108 Video
SD3108 Automatic Swing Door Hardware 
Package including:
Swing door opener motor,2 arms, 2 remotes, 2 push buttons, 1 hand programmer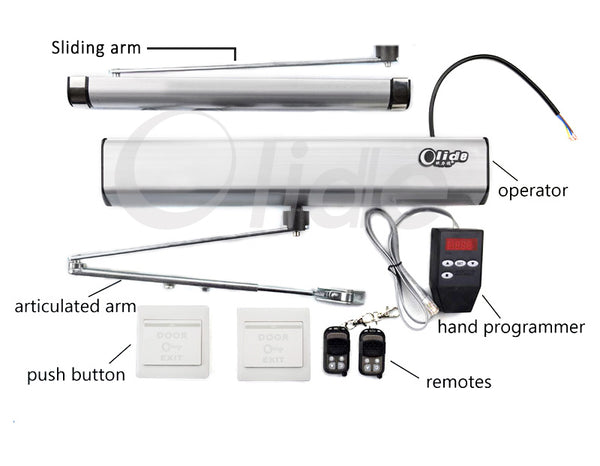 Articulated arm and sliding arm both available, can be mounted on the hinge side and opposite hinge side.
Electric Swing Door Operator Features
Surface mounting

Push-Go: Automatic activation by pushing or pulling door panel

Quiet and aesthetically pleasing

Electric strike integration

Efficient and cost-effective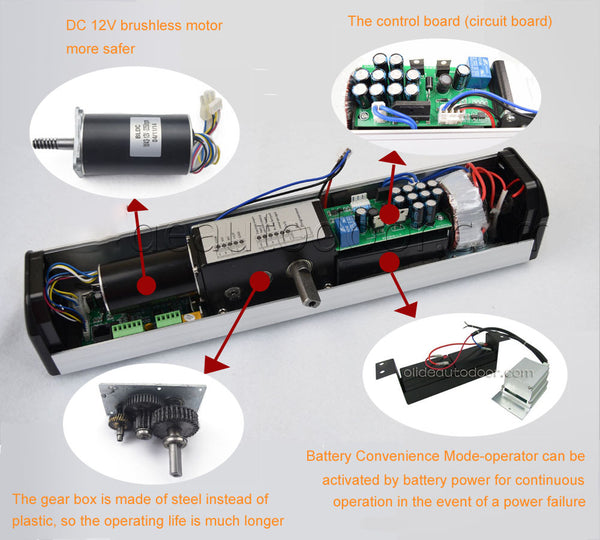 Note: Backup power supply is forbidden to ship, you can find it in your local market, it's DC12V type.
DC 12V brushless motor, more quiet and much safer;
Control board can connect with access control system,sensor or electric lock etc.
The gear box made of steel instead of plastic, more longer operating life;
Multiple function remote control, automatic, locked, open, remain opening, pause;
Note: One remote control can control multiple openers at the same time, and one door opener can connect 15pcs remote controls at the same time.
Easily adjustable opening&closing speeds, opening angle, hold-open time by hand programmer;
Safety system: the automatic protection device against overheat, overvoltage, overcurrent and obstacle-encountering.
SD3108 Automatic Swing Door Opener Applications:
Commercial

Residential

Hospital

Office

Washroom
This kind of electric door opener can be widely used in residential subdistricts, retail stores, pharmacy, laundry, office, washroom, hospital, air shower, clean room, etc.
SD3108 Technical Specifications
| | |
| --- | --- |
| Installation method | surface mounting (external) |
| Power supply | 220V/AC,110V/AC, 50/60Hz |
| Motor | DC 12V brushless motor |
| Reted power | 45W |
| Max. door width(single leaf door) | 1200mm |
| Max. door weight(single leaf door) | 120kgs |
| Opening/Closing speed | 2-8 seconds(adjustable) |
| Opening time | 0-120 seconds(adjustable) |
| Environment temperature | -20 -- +50°C |
| Manual force | <30N |
| Operation noise | <55db |
| Opening angle | 60°~120°adjustable |
Output voltage of power: DC24-12V for the optional accessories, such as body sensor; access device, safety beam, electric strike and others.
SD3108 Automatic Swing Door Opener Troubles Shooting
Trouble
Reason
Solution
No indicator LED lights
on power supply
Power failure

Open the cover of machine
body; check if the fuse of
220V/110V power is burned down.
Open the outer crust and
check if happens 220V or
110V power fuse blowout. 

The remote control doesn't work
Failure of remote control

Connect the port "door
opening signal" with the
public port "GND" by the
wire; if the side of door
opening is not allowed,
check the machine power; if
the signal of door opening is accepted, further check as per the following steps:

1. If the indication light is on
when the key of remote
control is pressed; if out,
replace with the same kind
of battery after opening the
rear cover.
2. Re-learn the code of
remote code; if it still
doesn't work, check if the
receiver or remote control
doesn't work

Door knock
1. The brake doesn't
work well;
2. Too small of
distance of
damping speed
3. Too fast door
closing

Turn up the braking force
(Option E)
Increase the damping close
distance (Option 6)
Slow down the speed of door
closing

Door open not in place
1. The angle is not well adjusted;
2. The signal of door
opening is sent
before the powering
on and resetting;

Adjust the angle of door opening (Option B)
Reclose the power; close the door and then power on; send the signal of door opening after 60s

Door in unclosed state
1. The angle to be

Decrease the angle of door
---
how to program the remote

Hi Joseph,

Could you please tell me your email address? So that I can send you product manual.

Best regards,
Olidesmart

I am attempting to install this swing door opener, but I have misplaced the manual. How can I print another one?

Hi, here you can download the product manual: SD3108 manual

When the door was closed by the SD3108, do the opener hold the door closed in a closed state or could some wind open the door a little bit?

Hi,

It will keep the door closed, not open a little bit.