Olide SD150B Automatic Sensor Sliding Door Opener Glass/Wooden Door Operator Manufacturer
Automatic Sliding Door Opener Working Video
A sliding door operator is a device that operator a sliding door for pedestrian use.It opens the door automatically, waits, then closes it.
Complete Set Automatic Sliding Door Opener Include As Below:
| | | | |
| --- | --- | --- | --- |
| Components | Quantity | Components | Quantity |
| Control panel | 1 | Receiver | 1 |
| Motor   | 1 | Return Pulley | 1 |
| Microwave sensor | 2 | Terminal input assembly | 1 |
| Tooth Belt | 1*7m | Power switch | 1 |
| End stop | 3 | Hanger roller bracket | 4 |
| Remote control | 2 | Belt bracket link assembly | 2 |
| Device for yaw checking | 1 | Plastic push button | 2 |
| Aluminum rail and cover | 2.1mx2pcs | | |
Note: Please leave your door size information:
1. Single leaf or double leaves door;
2. What's the door width of per leaf;
3. Framed door or frameless door.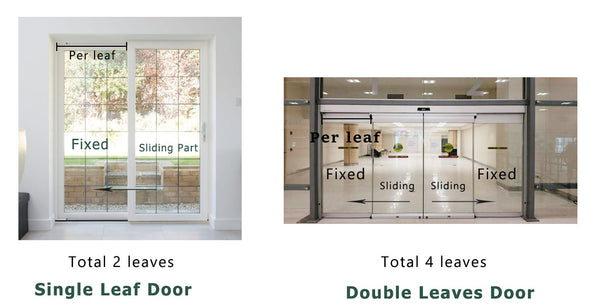 If you are not sure, please contact with us.
If you need more functions and have additional requirements, like mobile/ Wifi control device, Debug version, need other accessories or remote controls and etc., please contact us. Also please leave a message about your door size details and we will double confirm our best offer for your order.
Olide Electric Slide Type Door Closer Features
Good applicability and high selectivity -- It can be applied to all kinds of doors, The automatic sliding door opener has a wide range of applications, like  convenience stores, dining-hall, hotel, office, bank,and etc.

Imported chips, aviation aluminum -- High aluminum alloy rail and cover, microcomputer controller,brushless DC motor, remote control door;
Low noise, smooth running -- Adopt special lubrication measures, special deceleration and static wheel structure, professional design of the crane roller structure, greatly reduce the running noise;
Obstacle avoidance design -- When the door closes, encounter certain obstacle, automatic door can bounce back automatically;
Imported motor --   with fast speed and service life of more than 1 million times. Brushless dc motor, fully sealed structure. Small size and high power dc brushless motor, longer than brush motor life, less noise;
Safety protection circuit device, even if the frequent open and close, can achieve long-term no-fault operation;
Microcomputer controllers use cutting-edge technology, has efficient loop, overload protection,  memory and correction functions; It can be checked to know the door leaf (size, weight) to set the operation parameters, so that the door maintains a good operation state of reliability,  The controller itself has 24V power supply, without using transformer.
Installation For SD150B Automatic Sliding Door Opener
If it's a frameless glass door, it will need glass clamp, there are short type and long type available.
Floor guider for frameless glass sliding door
If it's a framed door, such as wooden door, framed glass door... will need gasket to connect the door and hanger.
Floor guider for framed door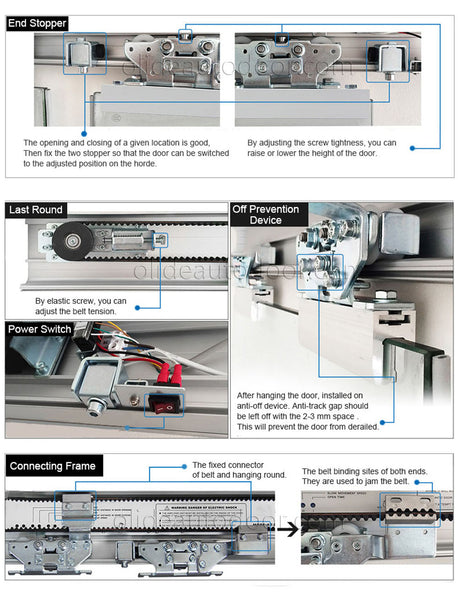 Automatic Sensor Sliding Door Opener Technical Specifications
| | |
| --- | --- |
| Model | SD150B |
| Door range | Single leaf              Double leaf |
| Door leaf weight | Max 160kgx1          Max 120kgx2 |
| Door width |  600-3000mm            600-1500mm |
| Opening speed | 100-550mm/s(Adjustable) |
| Closing speed | 100-550mm/s(Adjustable) |
| Opening time | 0-9seconds |
| Motor | DC24V Brushless DC Servo Motor |
| Supply voltage | Input AC110V/220V; 50-60Hz |
| Working temperature | -20-50°C |
| Working noise | Less than 50db |
 SD150B Profile Drawing
Automatic Sensor Sliding Door Opener Typical Applications

Hospitals and Healthcare Facilities
Assisted Living Facilities
K-12 Schools and Universities
Places of Worship
Labs and Research Facilities
Theaters
Any opening where safe passage is crucial
---
My door is a wooden barn door. What modification do I have to do to use the SD150B. Thank you.

Hi,
You need remove the current rail for the door, and use the rail of SD150 to hang the door up.

In the parts list of the Olide SD150B Automatic Sensor Sliding Door Opener Glass/Wooden Door Operator Manufacturer there is a " 2 Plastic push button" but not in picture - what are these for ? Also there are 4 sets of wheels in the picture - do I only need 2 sets for a single leaf door ? What is the width of the door that can be used - 25mm or 35mm ? I need to install this in a corner of a room. Is the door able to be closed right to the wall at the motor end of the auto closer ? I am just deciding which is best for me - the SD 150B or the Olidesmart Residential Automatic Sliding Barn Door Operator. Thank you 2

Hi,

Is your door a barn door? If yes, only model CASA3 can be used. If use SD150, you need to modify the door. The plastic push button is use to open and cose the door, it need wiring to the door opener.

Hi, I was thinking of using the SD150B Dual Leaf on an upcoming project. My idea to use the sliders with barn doors to showcase a videowall. My question is how wide is the opening when the doors are fully wide. Using 1500mm doors. The videowall is 96" wide. Also are the sliders controllable by 3rd party? Thank you

Hi,

If the door is 1500mm per leaf, you can display the videowall fully; The length of the track will be 59"*2/1500*2mm+96"=214", but the track is still too long to ship by air after being cut in the middle. We suggest shortening the width of the doors to 48" each, just enough to cover the videowall.

The SD150B kit including remote control, mocrowave sensors and push button, if you want to control with other device, such as phone or Alexa, you can add a wifi remote, here is the product page:
https://www.olidesmart.com/collections/spare-parts-of-accessories/products/smart-wifi-rf-remote-control-os1002