Olide DSW85 Automatic Spring Swing Door Opener, Motorized Open And Spring Close
Olide DSW85 Automatic Spring Swing Door Opener
Are You Worry About?

I think you may need our spring swing door opener DSW85. DSW85 is a kind of door swinging device controlled by a microprocessor, which has a simple design and self-monitoring. It has a variety of special and additional functions. The opening and closing speed are adjustable with smooth and quiet operation. Therefore, it has a wide range of applications and is especially suitable for use in combination with fire doors.
Automatic Spring Swing Door DSW85
One set electric door opener includes: Opener motor, 2 arms, 2 remotes, 2 push buttons,1 hand programmer.
Articulated arm and sliding arm both available, can be mounted on the hinge side and opposite hinge side.
Spring Swing Door Closer Motor Details
A simple appearance design from the inside to the outside highlights its high quality. Each line is carefully carved, refined and continuously pursued by the designer, to achieve more perfect results.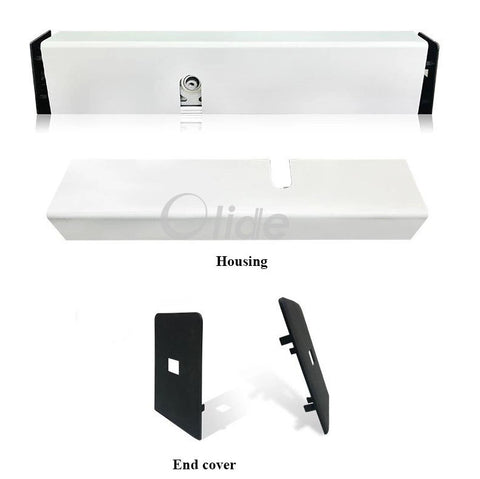 The movement path of each door is controlled under the optimal mode of motion directly by the microprocessor according to the current position, speed, and final position of the door and accurate calculation.
This also avoids the emergence of problems, such as end-point stop, emergency braking and velocity lag, etc. And a spring control force required for smooth opening in the event of a power outage can be set depending on the width of the door, and the limit control of redundant force also enhances its security to some extent.


Product Characteristics
1. In the event of a power down, the unit will provide self-closing spring force
2. Especially suitable for use in combination with fire doors
3. Precise position control and speed control are provided by the microprocessor
Product Technical Specifications
Power
220V AC+- 10%, 50/60HZ
Power consumption
100W(MAX)
Dirve unit
24V DC Motor, spring closing and resetting
Anti-squeeze device
Standard
Opening angle
80° - 100°
Opening time(speed)
3-7 seconds adjustable
Closing time(speed)
 

3-7 seconds adjustable

Open hold time
0.5 - 30 seconds adjustable
Dirve arm
Pull arm, Push arm
Ambient temperature
-20°C - 45°C
Relative humidity
<=85%
Pull Arm and Push Arm Installation
Pull arm type installation or push arm type installation can be selected according to different applications. The pull arm type installation is applicable to the door fans opening inwards, while the push arm type installation is applicable to the door fans opening outwards.
Product Installation Examples
---